---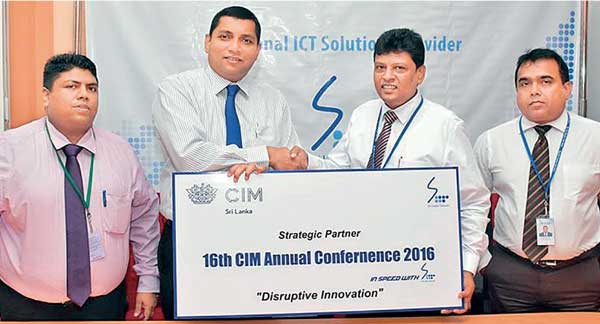 From left: CIM Sri Lanka Manager Membership Development Sanjay Hettiarachchi, CIM Sri Lanka Chairman Sanjika Perera, SLT Chief Marketing Officer and SLT VisionCom Ltd Chief Executive Officer Ajantha Seneviratne and SLT General Manager Corporate Relations
Rohana Ellawala
Sri Lanka Telecom PLC (SLT) has joined hands with the Chartered Institute of Marketing, Sri Lanka (CIM Sri Lanka) for its 16th Annual Conference.

CIM Sri Lanka has conducted the Annual Conference for 15 successive years and SLT has partnered with the CIM Annual Conference since its inception.

The 16th Annual Conference will be inaugurated on June 28, 2016 at 6:30 p.m. and the technical sessions will be held on June 29, 2016 from 9:00 a.m. to 5:00 p.m. at Water's Edge, Battaramulla. Themed 'Disruptive Innovation', the conference will cover topics on the concept of disruptive innovation, nurturing disruptive innovation and how digital neuromarketing techniques are disrupting the traditional market research industry.

The keynote speaker of the event will be Dr. Prafulla Agnihotri, Founder Director and Professor of Marketing and Strategy at the Indian Institute of Management (IIM) in Tiruchirappalli, who will speak on the 'Concept of Disruptive Innovation'. He holds a Master's Degree in Management Studies (M.M.S.) and Ph.D. in International Marketing Strategy area from Jamnalal Bajaj Institute of Management Studies, Mumbai.

Among the panel of eminent speakers is Professor Wong Poh Kam, Professor at the National University of Singapore (NUS) Business School in entrepreneurship and innovation strategy with a special focus on Asia. Dr. Gemma Calvert, Professor of Marketing, Nanyang Business School, Nanyang Technical University, Singapore will speak on 'neuromarketing'. She is a world-renowned neuroscientist and a specialist in the application of brain science to business.

CIM Sri Lanka Chairman Sanjika Perera said, "We are delighted and honoured to have SLT once again as our strategic partner. This longstanding partnership has enabled CIM Sri Lanka to develop professional excellence among the business and marketing community. We are confident of the continued support of SLT towards the upliftment of the marketing disciple in Sri Lanka."

Commenting on the company's continuous support of the conference, SLT Chief Marketing Officer Ajantha Seneviratne stated, "SLT is proud to partner with CIM Sri Lanka in conducting the institute's flagship event which brings together marketing professionals, both locally and internationally to discuss an emerging theme that will shape the future of marketing."

He also stated that it is a pleasure to be partnered with a professional body such as CIM Sri Lanka for 16 years continuously.
SLT is the national integrated communications service provider and the leading broadband and backbone infrastructure services provider in the country. Listed on the Colombo Stock Exchange, the company's market capitalization as at December 31, 2015 topped
Rs.84 billion.
The Sri Lanka Telecom Group provides an entire gamut of information communication and technology (ICT) solutions in the areas of fixed and mobile telephony, broadband, data, IPTV, cloud computing, hosted services and networking solutions to its valued customers via the latest cutting edge technologies and also
diversified services.
The Chartered Institute of Marketing (CIM) UK is the world's largest professional body for marketing, represented locally by The CIM Sri Lanka. CIM Sri Lanka strives to continuously support and uplift Sri Lanka's marketing profession through education and a host of training and
development initiatives.