---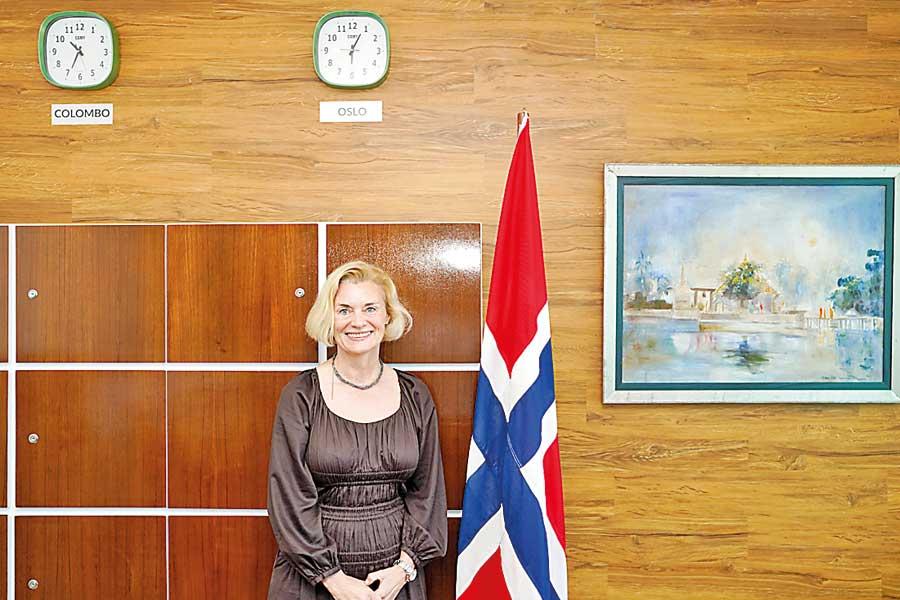 Norway ready to help if there is a way
Scope of bilateral relations widened
Business-to-business ties, green transition now focused
No plan to reduce development assistance radically
Norwegian Ambassador May-Elin Stener who is accredited to Sri Lanka from New Delhi was in Sri Lanka to give credentials and shared her views on bilateral ties
in an interview with Daily Mirror. Excerpts of the interview:

Q You came to Colombo to present your credentials. In the meantime you interacted with Sri Lanka leaders including the President and the Foreign Minister. What are the new aspects you discussed during these meetings?
My message has been quite clear that Sri Lanka has a place in the hearts of many Norwegians. We are still with Sri Lanka. We will be covering Sri Lanka with passion and dedication also from the Embassy in New Delhi.

The closing down of the embassy was part of a restructuring of the Foreign Service in Norway. Other embassies and missions were also closed.
We will keep having a special focus on Sri Lanka. We maintain the projects that we have had here in the country. We would also like to discuss with Sri Lanka how we can further the cooperation in particular areas like climate change and the green new technologies - how we can make Norwegian and Sri Lankan companies work together on developing green solutions. The Norwegian Climate Investment Fund has already invested in solar energy in Sri Lanka.

Also, when I met the President and the Foreign Minister, I thanked them for facilitating a very quick credential ceremony for me to take over my charge as Ambassador to Sri Lanka quickly.
I had only been in Delhi for 10 weeks when I delivered my credentials to President Ranil Wickremesinghe here in Sri Lanka. I also think that is a sign of both sides wanting to maintain a strong relationship.

Q How difficult is it for you to look after Colombo from New Delhi?
Our embassy in Delhi has been reinforced. We have staff that will specifically work and cover Sri Lanka.
We are putting more resources into Sri Lanka from Delhi. It gives us an opportunity to look at the overall and holistic picture.
It will of course not be possible for me to be as present as the previous ambassador who was physically here. But we will from the Embassy side have Sri Lanka as an important priority.

Q In the minds of many Sri Lankans, Norway is associated with its role in peacebuilding, and reconciliation apart from its development assistance. Now, because of Sri Lanka's strategic positioning in the Indian Ocean, the countries look at Sri Lanka from a different perspective. Does Norway still stick to the same role in peacebuilding or has its scope widened further?
Well, the scope has widened over the last years, and I am sure you discussed that also with my predecessors and previous ambassadors.
So, we are now looking into how we can support the communities in their development, how we can work with Sri Lanka on the green transition, and how we can work with Sri Lanka on the business-to-business level.
We have also appointed a new Honorary Consul General here in Sri Lanka.
This is Mr. Mano Sekaram and he is very well-positioned to promote and look after the business-to-business cooperation that we have with Sri Lanka.
He is already cooperating with Norway on the business-to-business level and will help us identify where other Norwegian businesses can cooperate with Sri Lanka.

Q Now, you mentioned the cooperation in investment in green energy. During your meetings with the President and others, was there any concrete decision taken- any special amount of investments placed?
What is important for me is to encourage and support Norwegian companies that would like to invest or do green business in the country. I am not announcing any new investments during my visit, but I did inform the President and others about the recent investment of the Norwegian Climate Investment Fund of US $ 4 million into solar panels here in Sri Lanka. The first floating solar power plant was also launched some time back in cooperation between the University of Jaffna and the Western Norway University of Applied Sciences. The Norwegian Sovereign Wealth Fund also has substantial investments in companies in the country. I discussed this with the President in Kandy and also with the Foreign Minister in a separate meeting we had in Colombo.

Q What kind of assistance can Norway extend to Sri Lanka to overcome its current economic crisis?
Firstly, through our humanitarian support when needed. We provided US $ 1.6 million in humanitarian aid through UN organisations last year.
Secondly, through our development cooperation and programmes in Sri Lanka. Norway's development assistance is around US $ 5.3 million.
Finally, we follow closely the talks and negotiations with the International Monetary Fund (IMF). As well as the ongoing discussions with big lenders such as India and China on their debt and also with the Paris Club.
Norway is a member of the Paris Club, so we will be discussing with Sri Lanka the best way out of the debt crisis.

Q There is a kind of transition in Sri Lanka. How do you look at this transition actually?
We want to support Sri Lanka out of the crisis. Sri Lanka has to, of course, work its way out of the crisis on its own. But if there are any possibilities for us to support Sri Lanka out of the crisis, we will do that.

Q When we talk about Sri Lanka's strategic position in the Indian Ocean, you have seen different countries look at it from a different point of view. The US talks about the Indo-Pacific strategy. France is going to invest in Sri Lanka. India and China have strategic interests here. So, how does Norway look at this as a country interested in ocean affairs?
Beyond the view of China, the US, and India on Sri Lanka, we are interested in getting Sri Lanka's own view on its position and vision. It is for Sri Lanka to carve out its own strategic vision and not for other countries to impose it on Sri Lankans. As a small country in the North of Europe, we are also dependent on international cooperation and multilateralism to carve out our own strategic vision – independent of large powers. This is why, we are very interested in the views of Sri Lanka on its own strategic position and discussed this with the foreign minister
We have also sought advice from Sri Lanka. We are in very different neighborhoods, Norway is far away but is useful for us to listen and learn from Sri Lanka's own experience. We are both important Ocean countries and rely heavily on the safety and prosperity of our maritime sector.

Q Sri Lanka has taken steps to start a climate university. How does Norway intend to cooperate with that, actually?
Sri Lanka is vulnerable to climate change and there is a great need for research on climate change and solutions. So more international cooperation on climate research is always a good idea. I did not discuss this initiative during my visit, but we will look closer at how Norway can cooperate. In general, we would like to see how Norwegian universities and Norwegian hubs for innovation and technology could support Sri Lankans in their efforts.

Q What do you think about Norway's traditional role in Sri Lanka's peacebuilding and reconciliation?
As you know, we don't have the same role now in Sri Lanka when it comes to peacebuilding, as we had before. But we remain active in promoting and supporting reconciliation. This is crucial.

Q In the post-war context, there are so many things being done. There is a call for reconciliation, a call for addressing accountability issues, and human rights issues. There is a resolution passed in the United Nations Human Rights Council. In that context, how active is Norway?
Well, we are quite active, considering our history here in Sri Lanka, and considering that Sri Lanka has a place in the heart of many Norwegians, we would be following the issues on the international scene very closely.
We had recommendations to Sri Lanka in their last review at the Human Rights Council, Universal Periodic Review and a couple of those recommendations were also supported by Sri Lanka itself, looking at some of the reconciliation and human rights issues here in Sri Lanka.
So, we play an active role there, and we also have roles in supporting community building. We are supporting community building in the North and also looking at the broader picture of how we can support communities wanting to build themselves up after the war.

Q In Sri Lanka there are a lot of non-governmental organisations (NGOs) that operate with Norwegian assistance. Also, the Norwegian development arm- NORAD is in operation. How do you assess their roles?
Well, all the projects that we have here are supported by Norway, whether we call it NORAD, or its embassy, or its Norwegian support. And we are going to continue that support. We have no plans of radically reducing the support that we have had. It's continuing.

Q Norway has a lot of expertise in the fisheries sector. Norway has extended a lot of assistance in the past. So, in that context, how do you look at that cooperation?
We still have Norwegian projects supporting the fisheries sector. This is an important sector to support. And also, as I mentioned, we are looking more into business-to-business cooperation. And if there are Norwegian businesses and Sri Lankan businesses also in the fisheries sector that can cooperate, this is something that we will encourage.

Q What kind of assistance can Norway extend to Sri Lanka to develop its tourism sector?
Well, Norwegian citizens and Norway are already looking to Sri Lanka in the tourism sector. So, there is already quite a broad range of people-to-people connections and business-to-business cooperation in this area.
And I would recommend that to continue. Sri Lanka is a beautiful and great country to visit. I look forward to visiting frequently in the years ahead.