---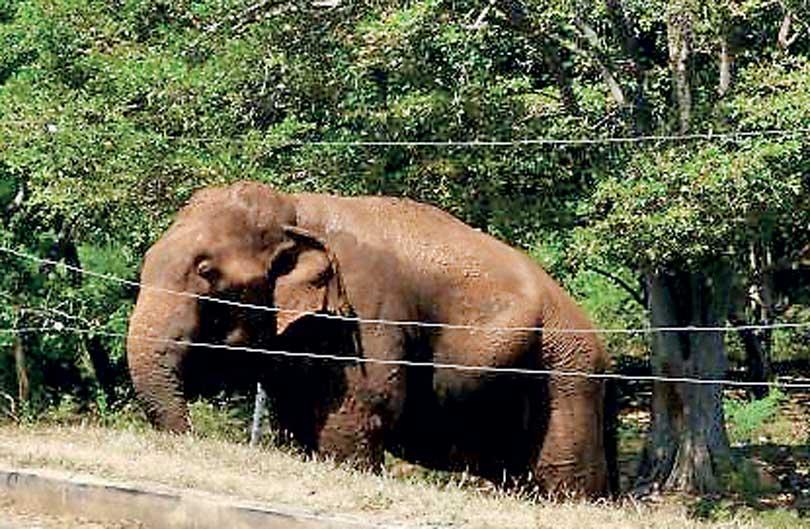 The DWC failure to maintain the two electric fences on the boundary of the National Park has resulted in the elephant roaming into settlements
By Ajithlal Shanthaudauya
Chief Sanghanayaka of the Southern Province Ven. Dr. Omalpe Sobhitha Thera and several environmental organisations have protested against the removal of the wild elephant Rambo from the Udawalawa National Park to another area.
Ven. Thera said that although people were in the habit of feeding the elephant, it had not hurt anyone so far.

The Ven. Thera said the wild elephant popularly known as "Rambo" roamed on the Udawalawa – Thanamalwila Road due to the Wildlife Department's failure to maintain the two electric fences on the boundary of the National Park. He pointed out that though he agreed with the department that damages had been caused to the cultivated land and sugar cane plantations, the jumbo should not be taken away from its natural habitat where it had lived for more than 50 years.

" I understand that the 50- year- old jumbo is to be taken to a forest reserve in Vavuniya. When its usual habitat is changed and left in a new environment, its life would be in danger for several reasons. Other elephants may attack it an even kill it.

It is sad that the officials who are well conversant with the pattern of life of wild elephants have forgotten that the jumbo would attempt to return to Udawalawa and it could pose a danger to human lives during the journey." Ven. Thera said. He further said that Wildlife Conservation Department should strengthen the electric fences to prevent the wild elephant roaming into cultivated land. Meanwhile Southern Province Asst. Director Wild Life Conservation- Channa Suraweera said that wild elephants were not scared of the electric fences and that they would easily creep through them. However he said no decision had been taken as yet to release the particular jumbo to another forest reserve. He pointed out that the life of the wild elephant could be in danger if anyone shot it when it roamed into the villages and ruined the crops.