---
No signs of water seepage or oil spill
A Sri Lanka Naval rescue ship and a craft were rushed to the scene from the ports of Hambantota and Galle

The ship was en route to Trincomalee from the Abu Dhabi Port in the UAE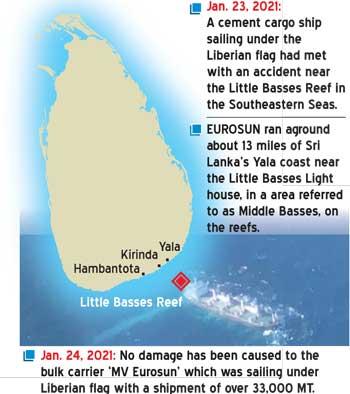 By Darshana Sanjeewa Balasuriya and Dilip Jayasekara
No damage has been caused to the bulk carrier 'MV Eurosun' which was sailing under Liberian flag with a shipment of over 33,000 MT cargo and ran aground at Little Basses, the Navy said.
The ship was en route to Trincomalee from the Abu Dhabi Port in the UAE, ran aground at Little Basses which is about 5.5 nautical miles (10km) off the south-eastern coast of the island.

On receipt of a distress call to the Maritime Rescue Coordination Centre (MRCC in Colombo), a Sri Lanka Navy rescue ship and craft were rushed to the scene from the ports of Hambantota and Galle on Saturday afternoon.
The Sri Lanka Naval ship and craft carrying Navy divers have reached MV Eurosun and conducted the preliminary investigation.

The Navy said that there was no sign of water seeping into the ship or oil spillage to the ocean.

Further, an SLAF aircraft conducted an aerial reconnaissance in the area to capture aerial footage, following a request by the Navy.

The MRCC, which is located at the Navy HQ is carefully observing the development into the mishap, the Navy said.
The Sri Lanka Naval ship and craft carrying Navy divers have reached MV Eurosun and conducted the preliminary investigation