---
The PCoI on Easter attacks has failed to focus on the mastermind, motive and the others who were behind the attacks
A number of political changes have taken place after the attacks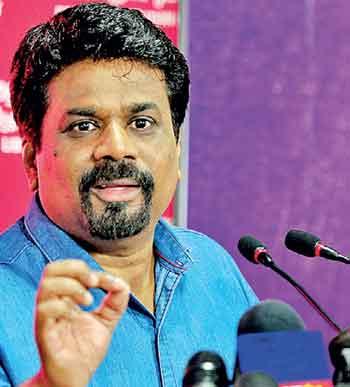 By Ajith Siriwardana and Yohan Perera
While claiming that the Easter Sunday attack were politically motivated though it looked like an extremist and terrorist attack, JVP leader Anura Kumara Dissanayake said yesterday the Presidential Commission on Easter Sunday attacks has failed to reveal the mastermind and the motive behind the attack.
Speaking during the adjournment debate on the PCoI report on Easter attacks, he said there had been a number of political changes after the attacks. "The look of the attacks is extremist and terrorist. However, when the outcome and the scenario behind the attacks were studied, it was a political attack. A number of political changes have taken place after the attacks," he said. The MP said the PCoI on Easter attacks has failed to focus on the mastermind, motive and the others who were behind the attacks adding that the report has only issued a summary of the reasons for being unable to prevent the attacks. He said some security heads have testified before the PCoI that they suspect there had been a conspiracy and an invisible hand behind the attacks. "It is a serious situation. It should be investigated and revealed whether there has been a conspiracy. Failures to prevent the attacks can be rectified. However, as long as the conspiracy is not disclosed, there is a risk of such an attack taking place again and the country is at risk," he said. He said the PCoI has paid less attention to the conspiracy behind the attacks adding that the commission has purposely neglected it.

Mr. Dissanayake said several incidents hinted suspicion over the commission such as its failure to record evidence from Naufer Moulavi, to investigate the telephone call said to have been made by the suicide bomber after failing his attack at the Taj Samudra Hotel and the telephone call said to have been made to the ISIS by a person who called himself as Zahran, requesting ISIS to take the responsibility for the attack.