---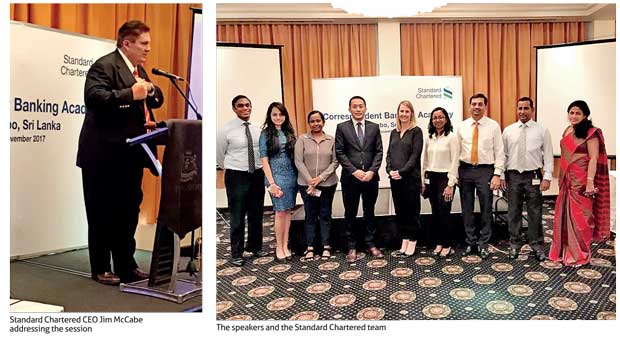 Standard Chartered hosted a Correspondent Banking Academy for around ninety representatives from across its client footprint in Sri Lanka.

Among the participants were officials from 15 banks including those from three international bank branches. The day-long session included knowledge sharing on the latest trends and best practices in Financial Crimes Compliance (FCC), sanctions and Anti-Money Laundering controls. The programme also included a segment on the regulatory role of the Central Bank of Sri Lanka conducted by Deputy Governor Sirwardena and the Director of Financial Intelligence.

Standard Chartered Sri Lanka Sales and Service, Transaction Banking Head Anton Amarasinghe speaking of the motivations for hosting the workshop said: "Correspondent Banking is an important means of facilitating cross-border trade and financing growth, hence we are determined to support this facet of the financial services industry by sharing knowledge and best practices with peers and regulators. We are also committed to promoting the safety of our financial system and protecting against financial exclusion."

Standard Chartered remains a leading player in the Financial Institutions business across the globe, with Correspondent Banking forming an integral part of the solutions the bank provides to its clients. With workshops such as these, Standard Chartered aims to contribute to the overall well being of the industry by sharing 'de-risking through education' which Standard Chartered Group has developed, to manage the financial crime risk in the bank's correspondent bank portfolio, and to support growth in emerging markets and promote financial inclusions. In this way the bank hopes to engender the development of robust controls for managing FCC risks.

Standard Chartered's Correspondent Banking Academy featured speakers from across the bank's footprint including South Asia (India) Banks Sales Head and Executive Director Shivaraman Subramanian, ASEAN and South Asia (Singapore) Financial Crime Compliance Head Jodie Arthur, ASEAN and South Asia (Singapore) FCC Sanctions Investigation Director Dane Alan Shelly and FCC and Country Money Laundering Compliance (Sri Lanka) Director Mihiri Ekanayake. Content covered in the day's sessions included customer due diligence, anti-money laundering, counter terrorist financing and sanctions compliance. In previous years the academies have been held in 49 countries, reaching 508 client banks and over 1,000 attendees (2015), and in 2016, a total of 776 client banks in 50 markets, with over 2,200 attendees.