---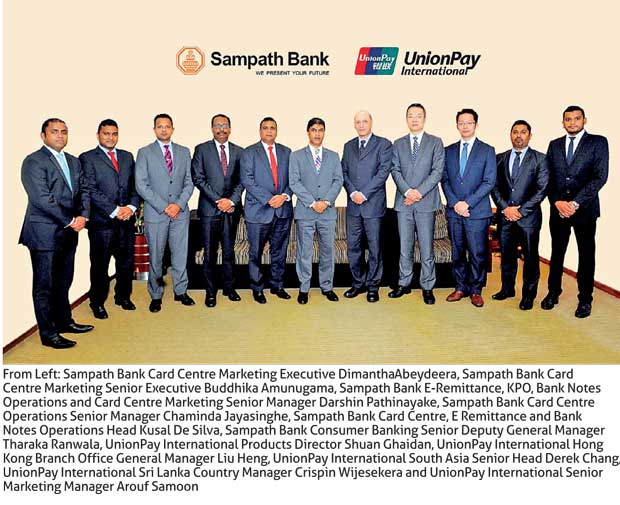 Sampath Bank announced that its local merchant partners will now be able to accept UnionPay credit and debit cards for Point of Sale (POS) payments.

This move is set to give a significant boost to the bank's local merchant partners who would now be able to welcome UnionPay cardholders. UnionPay is now one of the largest payment card networks in the world. It will also bring in greater convenience to consumers, especially the growing number of Chinese tourists visiting the island.

UnionPay cardholders already enjoy a host of benefits and privileges from Sampath Bank including the ability to withdraw money from over 350 ATMs on the island. Now, they can pay for direct purchases using their UnionPay credit and debit cards. Cardholders can shop in peace as the EMV enabled UnionPay cards (i.e. cards with an EMV chip embedded in them) offer greater protection against counterfeit and other types of fraud.

This facility has initially been made available at over 300 leading merchants around the island across key tourism related businesses such as gems and jewellery, tea, spices, dining and lodging and duty free shopping. These merchants will be able to accept UnionPay credit and debit cards in Sri Lankan Rupees and different foreign currencies on their Sampath Bank card terminals. Sampath Bank is striving to expand this to its base of over 5,000 terminals.

Commenting on this, Sampath Bank PLC Consumer Banking Senior Deputy General Manager Tharaka Ranwala said: "Given the steady growth in the number of tourists visiting the country from China, we were looking for ways in which we could help our merchant partners grow their business with them. Enabling UnionPay credit and debit card acceptance at Point of Sale (POS) for our merchant partners in partnership with UnionPay International is one of the steps we have taken to facilitate this. We look forward to seeing tourists and local merchants avail the benefits of this move."

UnionPay International Product Director Shuan Ghaidan said: "With UnionPay as the leading payment method among Chinese tourists, the demand for local payment and cash withdrawal with our cards continues to increase. Earlier on, we already joined hands to enable POS business in Sri Lanka; today the further deepened partnership with Sampath Bank on POS acceptance will definitely lead to a win-win situation. We will continue to strive to provide our card users seamless payment services around the globe and as the next step, we look forward to further exploring other payment opportunities with Sampath Bank in Sri Lanka."