---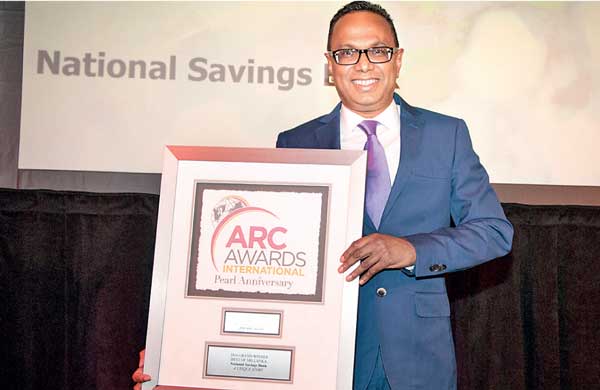 The National Savings Bank has recently won the Best of Sri Lanka Award for its Annual Report – 2015 by ARC Awards, one of the most sought after annual report rating entities globally. The event was held recently in New York, USA.

ARC Awards, popularly referred to as the Oscars of Annual Reports was held for its 30th consecutive year, attracting over 2500 entries around the world. Apart from this prestigious award, NSB was also awarded a Gold Medal for its Chairman's Message at the ARC Awards ceremony.
Aswin De Silva NSB's Chairman speaking at the ceremony stated, "We dedicate this award to all our stakeholders, 10 million or so customers, the State as shareholders and 4000 strong employee base, all business partners including Smart Media who compiled the annual report for the bank. It is a privilege to be amongst all winners representing over 100 countries. This also gives us opportunity to reflect upon our performance and our plans, which I believe is both financially and socially-inclusive, spanning the length and breadth of Sri Lanka".

De Silva also noted that it is the first time a State-owned bank was privileged to have won this award and expressed confidence that the bank would maintain momentum in achieving both short term and medium term goals.
NSB was also recently adjudged as the Safest Bank in Sri Lanka by Global Finance for 2016.