---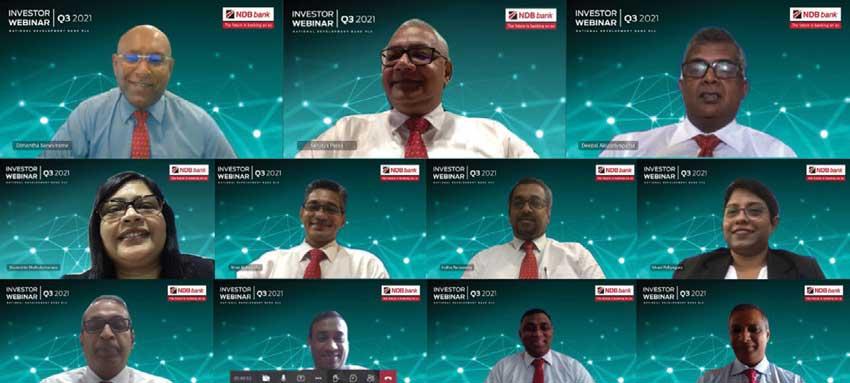 The virtual Investor Earnings Call was hosted by Director/Group Chief Executive Officer Dimantha Seneviratne, with the digital presence of the senior management of the bank
National Development Bank PLC hosted the bank's quarterly on-line Investor Earnings Call to discuss the bank's financial results, subsequent to the release of its financial results for the nine months ended 30 September 2021.
The Investor Earnings Call was hosted by Director/Group Chief Executive Officer of NDB Bank, Dimantha Seneviratne, with the digital presence of the senior management of the bank.

The Call which was fully virtual was conducted via the MS Team platform comprised a presentation by the GCEO on the performance, as well as an interactive Questions and Answers session for the benefit of the participants.
The bank's Investor Relations Team facilitates this event and it is looked forward to by local and overseas investors, research analysts, stockbrokers, fund managers, etc. NDB as a responsible listed entity has continued undisrupted, the best practices of hosting the quarterly webinar post results release to the CSE and publishing transcripts and playback videos on the bank's website for later reference - even amidst challenges brought by the pandemic.

The bank recorded resilient financial performance for the nine months ended 30 September 2021, a period marked by macro-economic challenges. Sharing his views on the performance, Dimantha Seneviratne noted that concerted pursuit of the bank's clearly defined strategy has enabled sound performance amidst turbulences.
Extending expeditious support to our customers in the face of the pandemic, through the course of our own initiatives as well as in congruence with relief measures introduced by the Government of Sri Lanka remains a priority for us in the foreseeable future.

Customer-centricity is our strategy's core, hence all our actions ultimately add up to precise solutions to them, at good times and bad, with sustainable growth, he noted.