---
LCB Finance recently announced the appointment of Mahesh Katulanda to the company's Board of Directors as a Non-Executive, Independent Director effective from 09th September 2021.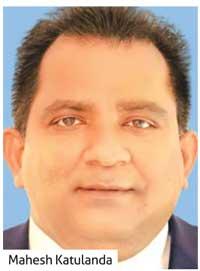 Mahesh Katulanda holds a LLM in Global Business Law from La-Trobe University-Australia. He is currently a Commissioner of the Office on Missing Persons.

He was a Director of Sri Lanka Insurance (General) Ltd (2014), and a Director of Marine Environment Protection Authority. (2012-2015), also was a Board member of the Post Graduate Institute of Science - Peradeniya. (2010).
Katulanda served as the Director General of National Aquatic Resource Development Agency (NARA)-2010 and was a Member of the Committee appointed to probe in to the matters pertaining to promotions and corruption in Mahaweli Authority of Sri Lanka (2003-2004).

He served as the Vice President of the Colombo Law Society. (2019-2020). He was a member of the Bar Council of the Bar Association of Sri Lanka since 1996 up to 2021 (Except 2013-2016), He also was an EXCO Member of the Bar Association of Sri Lanka. (2003-2004), (2012-2013), (2018- 2019) (2019-2020).

Katulanda served as a Director of Water Resources Board. (2002-2004), sworn in as an Attorney-at-Law of the Supreme Court of Sri Lanka in December 1995,he presently engaged in the independent legal practice as a senior counsel in all types of courts in Sri Lanka.He is a versatile professional having diverse experience in management of many fields.