---
Epic Lanka, the Sri Lankan pioneer in digital transformation and payment solutions, welcomed the New Year with a traditional celebration at Epic Techno Village recently.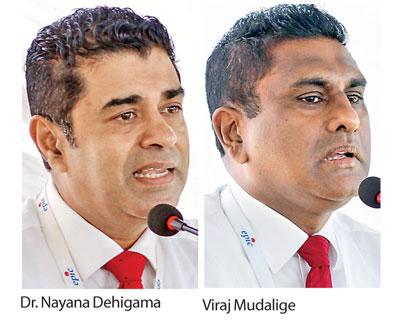 The event was attended by the company's Board of Directors, Corporate Management team and Epic employees including interns.

This year, Epic celebrates 25 years in the ICT industry, a journey that goes back to 1998 when it started with less than 10 employees. Today, the company has over 300 employees, expanded its operations to Singapore Malaysia, and Japanwith a significant presence in The Maldives.

Over the course of 25 years in the ICT sector, Epic has won over 100 national and international accolades. Epic is the first company to win the Overall Gold award four times at the National ICT Awards and the first Sri Lankan company to win a gold award at the world-renowned Asia Pacific ICT Awards (APICTA).

Speaking at the ceremony, Executive Chairman of Epic Technology Group Dr. Nayana Dehigama said, "We as a nation have endured a hard time in the last three years due to Covid-19 and other macroeconomic factors. Unfortunately, economists predict 2023 to be a tougher year for the entire world. However, every crisis presents new opportunities. There are many opportunities to exploit if we work smart enough to identify them.

Managing Director/CEO of Epic Lanka Viraj Mudalige said, "The challenges in the last three years have tested every industry and company in this country. Epic has been fortunate to ride this wave and come out with minimal impact. We managed to remain profitable even during the last three years. 2023 is a year where everyone will have to put in an extra effort to overcome challenges. I am confident that together, we at Epic will defy the odds and come out on top this year as well."

As one of Sri Lanka's first software brands, Epic earned its reputation as a leader in Fintech and payment solutions. The company has revolutionized the digital payments space by developing a gamut of payment solutions which include card management systems, terminal line encryption, fraud prevention, mobile banking, internet banking, branchless banking, payment dispute management, payment reconciliation and eKYC (Know Your Customer) solutions.

Epic also digitally transformed many state companies through workflow management and document management systems. All solutions were developed at Epic Techno Village in Battaramulla by Sri Lankan software engineers, many of whom have graduated from leading state universities. Over the past 25 years, Epic has offered internships to hundreds of university students who got to work on real-time projects for leading banks and state institutions. Employees at Epic have benefited from Epic's knowledge assimilation and R&D.

The company is planning to celebrate the 25th anniversary with a gala event to felicitate long-serving employees and clients, a national-level CSR project and many employee engagement activities and benefit programmes.