---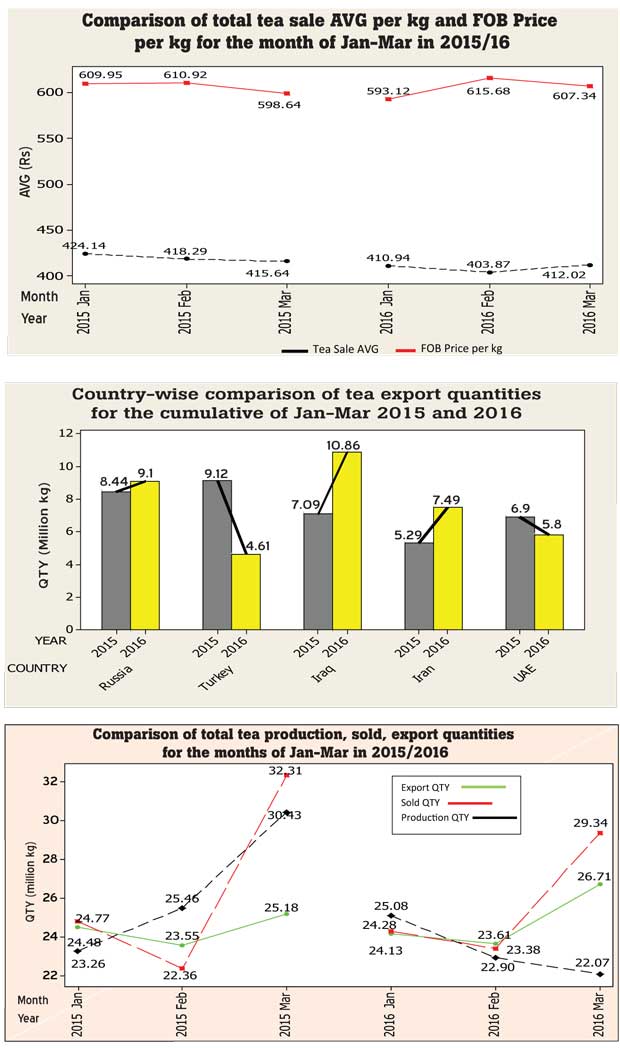 By Ceylon Tea Brokers PLC
The first quarter of the Sri Lankan tea industry wasn't as resilient as in the same period in 2015. However, the industry could recover some of its lost momentum in the second half of this year due to shifts in global politics in addition to oil— the prized commodity majority of our tea importing countries depend on for their economic well-being— has seen a steady upward momentum in the first quarter of this year.
Russia has marginally increased its imports in the first quarter but is still saddled with sanctions which are dragging its economy on a downward spiral. Iraq, in spite of political unrest, has emerged as the leading tea importer from Sri Lanka.
Whilst the countries with dependency on oil exports and internal strife continue to rotate their positions on the top segment of the importer list, countries with economic and political stability remain untapped.
India is seen forging ahead in its appetite to grab market share and even out placing Sri Lanka as the market leader in Russia. Unfortunately, we seem to struggle to draw up a strategy as a solution to the constantly changing market dynamics.
The rapid globalization continues to diminish traditional strengths and create new opportunities; tea trading hubs are being consolidated in Europe and in Dubai.
The total tea production in Sri Lanka for the first quarter 2016 recorded 70.26 million kilogrammes (M/kgs) in comparison to 79.35 M/kgs (-9.09 M/kgs) for the same period last year. Though the production has decline by 9.09 M/kgs, exports have increased by 1.24 M/kgs compared to the same period in 2015.
The total national average of the teas sold for the first quarter of the year 2016 was Rs.409.21 in comparison to Rs.419.04 (-Rs.9.83) for the same period last year. Low growns averaged Rs.412.71, mid growns recorded Rs.378.98 with high growns at Rs.419.45. The rupee equivalent averages for low grown and medium grown shows a decline in comparison to the year 2015, whilst the high grown records a higher average in comparison to the same period.
The US dollar equivalent averages show a decline on the corresponding average when compared to the year 2015 and 2014. The low grown, having the largest market share with 60 percent of the production, recorded the sharpest decline of Rs.-18.00, with mid grown recording a decrease of Rs.-5.95 and high grown recording an increase of Rs.+13.66 when compared to 2015.
Sri Lanka tea exports for the first quarter of 2016 amounted to 74.45 M/kgs vis-à-vis 73.21 M/kgs recorded for the same period last year (+1.24 M/kgs). The FOB average price per kilogramme for this period stood at Rs.605.37, marginally lower than Rs.606.37 (-Rs 1.0) year-on-year (YoY) for the same period.
The total revenue realized for the first quarter 2016 from tea exports was Rs.45.07 billion (US $ 311.8 million) compared with Rs.44.39 billion (US $ 334.9 million) (+Rs 0.68 billion) recorded last year. It was an increase in rupee value but lower in dollar value. Iraq has emerged as the largest buyer of Sri Lankan tea out placing Russia in the first quarter. Iran has shown a considerable increase in its purchase volume from Sri Lanka. Turkey, the second largest importer of Sri Lankan tea, in 2015 has shown a significant decline in its purchases in the first quarter moving down to the fifth position.
Probable trends for the rest of 2016
Russia- The Russian oil-based growth model has been exhausted due to drop in oil prices adversely affecting the Russian economy. With a 40 percent market share, Russia controls the largest portion of the European energy market. The European Union's (EU) push to reduce Russian gas supplies to the EU region and to source it from alternative markets could have a negative impact on its economy in 2016. However, the rouble has gone from being the worst performer at the start of 2016 to the biggest gainer, as oil – the country's biggest export earner – rebounded. The rouble has stabilized at 62 roubles per dollar.
Turkey- The Syrian peace talks have led to de-escalation of violence around turkey-Syrian border. Local tea imports to Turkey have seen a sharp decline in the first quarter. It could be assumed that Turkey, once a tea trading hub for the region, has currently lost its place to Iraq due to the heavy fighting that prevailed around the Syria-Turkey border, which may have blocked the smuggling routes to the neighbouring destinations.
Iraq- Seems to have taken over where Turkey left off. Based on the 64 percent increase in purchases of Sri Lankan tea in the first quarter this year, it is apparent that Iraq is now the major player in regional supply. Almost 90 percent of the government revenue comes from oil and Iraq has also increased its crude output to record levels this year.
Iran- Sri Lanka tea exports to Iran have seen a 70 percent increase in the first quarter of 2016. Iran's economy is opening out to the world; together with improved economic conditions, it could have a beneficial impact on the Sri Lankan tea exports to this important market. Though sanctions have been lifted, banks still have difficulty in dealing with Iran. However, Iran moved closer to realizing its ambitions of becoming a regional trading hub this week with India committing to developing the country's only port with direct ocean access.
Iran, India and Afghanistan have agreed to revive a 2003 project to build a trading corridor that would connect Afghanistan to the Indian Ocean via Iran. India is committing US $ 500 million (Dh 1.83 billion) to develop the Chabahar port on the Gulf of Oman and for rail links that will give landlocked Afghanistan an alternative to Pakistani seaports. The announcement ties in with a series of agreements between Iran and regional countries to develop north-south trading corridors linking the Indian Ocean through Iran to energy-rich former Soviet states, Russia and Eastern Europe. Such an endeavour would further jeopardize the local tea trade by giving India an advantage to directly supply two of Sri Lanka's currently largest importers – Russia and Iran.
UAE- Since establishing itself as a tea hub, Dubai continues to be one of the biggest importers of Sri Lankan tea. The majority of tea imports have been in bulk form due to a major component of tea being used for blending and re-export. Dubai is expected to record a 3.7 percent gross domestic product (GDP) growth rate in 2016. It is expected to see a higher growth rate due to the diversified nature of Dubai's economy.
Emerging and potential markets- China appears to be gradually increasing its market share in Sri Lanka tea imports, which could provide future benefits to the Sri Lanka tea industry. An upturn in purchases is seen in politically and economically stable countries such as the USA, Belgium, Australia, Netherlands and Poland.
Global economic forecast- The global economy grew in its slowest pace in almost three years in the first quarter due to weaknesses in emerging markets and the dynamics among developed countries, which remained weak. The global economy grew 2.5 percent in the first quarter 2016, which was lower than 2.6 percent recorded in the fourth quarter in 2015. The global economy remained dominated by the developments in the oil markets and oil prices have seen a gradual rise and touched the US $ 50 per barrel mark in the month of May.
Whilst economic uncertainty remains, reduced volatility in global financial markets and policy measures adopted in China at the end of the first quarter could help towards an upturn in the global economy. Despite a weak start to the year, the euro zone economy is expected to accelerate this year. The 2016 economic outlook, according to the World Bank for the Middle East and Africa, is projected lower. Geopolitical threats, slow global economic recovery are the contributing factors. Qatar with a diversified economy is expected to be the best performer in the region, followed by Iran, which is expected to benefit by the lifting of the sanctions.
US dollar- The US Federal Reserve is likely to consider two interest rate hikes this year, down from four, as planned earlier. The interest rate hikes tend to strengthen the US dollar globally, thus depreciating the emerging market currencies. The Sri Lankan rupee has depreciated 8.7 percent against the US dollar this year.
OPEC and oil outlook- Oil prices gained 20 percent in April, the highest monthly gain in an year. On April 17, representatives of 16 oil producing countries, which included Russia and Saudi Arabia, failed to reach an agreement to freeze oil production. Iran's refusal to take part in the agreement collapsed the meeting. The negative impact would have been to send the oil prices down. Disruptions to oil supply in the Middle East and Nigeria, fires in Alberta Province Canada, along with US energy information announcement of the anticipated US crude production fall in 2016 and 2017, helped crude oil prices to stabilize.
Chinese economy and commodity prices- The world's second largest economy expanded 6.7 percent YoY in the first quarter, slightly lower than the fourth quarter of 2015, which was 6.8 percent. Retail sales, industrial outputs and exports have shown a gain in the first quarter, which are signs of stabilization in the Chinese economy. The world's biggest energy user's crude oil imports climbed to a record first quarter. The stability of the Chinese economy would be a positive factor towards the global commodity prices.
Sri Lanka, whilst being a top category tea exporter in the world, its inability to penetrate into new markets remains a major drawback, whilst China, Kenya and India have seen an upturn in their export earning YoY, Sri Lanka's earnings seem to have reversed.
Further, continuous dependence on oil exporting countries has led to a reduction in export earnings. The years 2011-2014, where oil peaked to unprecedented levels (peak US $ 110 per barrel), the demand for Sri Lankan tea was exceptionally strong. However, with the shale oil industry coming into being, as well as the global oil glut leading to a drastic decline in the price of oil, resulted in a crisis in our local tea industry.
Once powerful organisations such as the Organisation of the Petroleum Exporting Countries (OPEC) seem to have lost their control due to rapid globalization. The industry should therefore understand that "what worked then wouldn't work now" and seek viable alternatives such as expansion of export markets and generation of a local tea blending hub.
The global export value of tea in 2015 amounts to around US $ 7 billion; 68.7 percent of the tea exports by value originated from Asia. Europe accounted for 15.2 percent, whilst the exports from Africa amounted to 11.7 percent.
Out of the countries exporting tea, including re-exports, the fastest growing since 2011 were United Arab Emirates 82.6 percent, United States 49.5 percent, China 43.3 percent and Japan 42.4 percent.
Whilst the non-producer tea exporting countries seem to accelerate their marketing drive, India and Kenya appear to follow suit. India's current drive to lower taxes of tea imports from India into Iran, leveraging on trade ties, could be a future threat to the Sri Lankan tea industry, where it is currently the market leader. Having out placed Sri Lanka as the biggest tea exporter to Russia, India seems to have consolidated its position in the current year having exported 11.67mt in the first quarter against 9.1mt from Sri Lanka.
It is important that the industry needs to action decisions as well as look at pragmatic solutions to make our presence felt in constantly and ever expanding global tea industry. Solutions and opportunities are out there but our ability to step out of our comfort zone and create constructive change by facilitating tangible expansion in export markets as well as generating innovative solutions for problems facing the local tea industry are yet to be seen. Taking the overall global sentiment into consideration, there is room for cautious optimism in regard to tea prices during the second half of the year.