---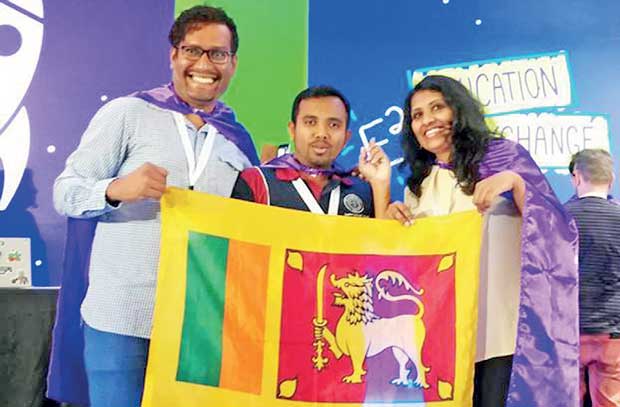 Sri Lankan teachers who attended the Microsoft Education Exchange Conference in Singapore. From left: Roshan Kumar, Anuradha Buddhika Jayalath and Surani Maithripala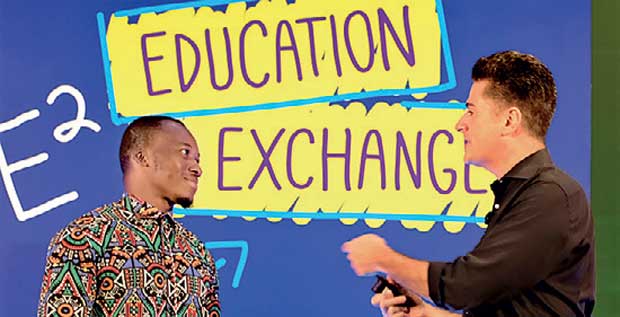 Anthony Salcito (right) congratulating Richard Appiah Akoto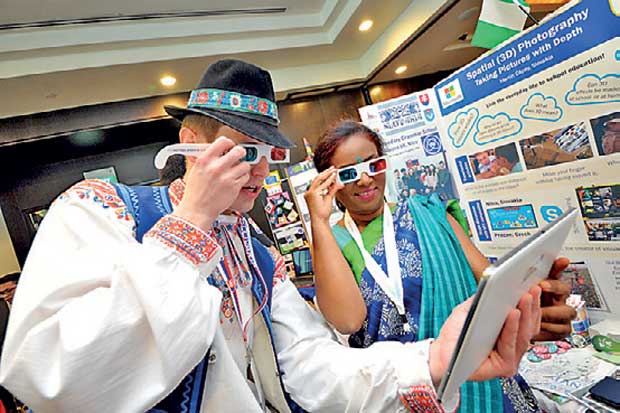 At the Learning Marketplace, these educators came together to display activities that they have done with their students and took others' inspiring ideas home with them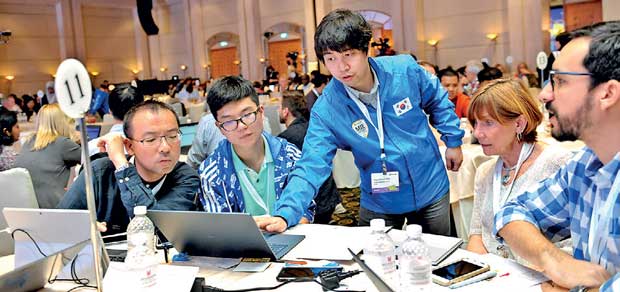 Teachers trying out new technologies

Digital transformation has generated a fierce debate among policymakers, economists and business leaders about the societal impact it would make, specifically on jobs. According to a global survey, about 80 percent of current jobs globally are tipped to get transformed in the coming years.

A large percentage of jobs are set to get replaced or outdated because of technology. Students in schools today will enter an era where many of the current jobs will cease to exist. Most importantly, there will be a significant amount of new opportunities that would emerge as a result of this technological impact.

So, how well do we equip our children with the skills required to prepare for the future economy? How could we fix a mindset of continuous learning that could adapt well to the fast-changing environment? These are very important questions which each country should constantly ask itself when gearing to face the future.
Global tech giant Microsoft is one company that plays a prominent role in empowering students to prepare themselves for the digital era.

Microsoft, in partnership with the Education ministries around the world, has been involved in selecting innovators in education, sharing ideas and trying new approaches and learning from each other through a global community dedicated to improving student outcomes through technology. The Microsoft Innovative Education Expert (MIEE) programme is all about that. The MIEEs also provide insight for Microsoft on new products and tools for education, to promote innovation in teaching and learning.

Microsoft's annual Education Exchange (E2) conference held in Singapore from March 13-15 saw around 400 educators and school leaders from around the world exchanging ideas to develop innovative experiences in classrooms, sharing their learning experiences, as well as exploring emerging trends in education, including new technologies that support teaching, skills development, modern pedagogies, safe school environments and predictive analytics that identify at-risk students.
Over the course of three days, Microsoft Innovative Education Experts were also recognized and celebrated for their achievements for combining content, pedagogy and technology in exemplary ways to prepare students achieve success in the digital age.

Microsoft Vice President Worldwide Education Anthony Salcito said the journey of Microsoft is to think differently about its transformation into a better organisation, to look at how it could support educators and school leaders and also as to how it could bring its products, services and innovations to help people achieve more in the digital era.

Teachers as learners

Teacher development must be viewed in terms of lifelong learning, with initial teacher education conceived as providing the foundation for ongoing learning, rather than producing ready-made professionals.

Teachers explained at the conference how they are already engaged in research and involved in embracing new technology as an integral part of what it means to be a professional teacher in the digital era.

Educationist Mohamed abd el Monem Mahmoud from Egypt said, "Great teachers are great learners and students need to see their teachers learn. The heart of this is working with a high degree of professional autonomy and in a collaborative culture."

"The knowledge-sharing sessions of Microsoft Innovative Education Expert programme also expose many ways as to how digital technology can leverage great teaching. What if we could get teachers around the globe working on curated crowd sourcing of the best educational practices? Technology could help create a giant open-source community of teachers and unlock the creative skills and initiatives of all teachers. Microsoft, which has been operating in Egypt for over 15 years, has facilitated in bringing super technology into the classroom," he noted.

Present-day students

According to Salcito, the digital transformation is already taking place and there is a change in mindset of students towards the digital revolution.
"Today, students think differently and their role has changed. They also do lot of research, are interested in solving real problems and to connect and collaborate with people globally to share ideas. They think about themselves as digital. They don't see the difference between physical and digital reality. They naturally join between the two."

Engaging all in learning

Aggeliki Pappa, who specialises in teaching English as a foreign language to Greek students with dyslexia, emphasized at the conference the importance of connecting and engaging all learners regardless of learning differences and difficulties.

As an EFL teacher, she recognised that there were no methods or resources available specifically for helping students with dyslexia who wanted to learn English.
"If a child struggled to read and write in his/her native language, what hope would he/she have with English?" She said she resolved to fix the problem, and after extensive research developed a whole system to teach EFL with dyslexia and called it 'I Love Dyslexia'.

Aggeliki said her approach is based on brain science and consists of a synthesis of smart visuals, mind maps, funny mnemonics and games to learn EFL skills in fresh and unconventional ways. It also includes socialising with native speakers, reflection on current affairs, drama, gardening and the use of technology.

Aggeliki also showed her concern over the use of explosive weapons and indiscriminate attacks in densely-populated areas in Syria that have killed a growing number of children who now account for one quarter of civilian deaths. She called on world leaders involved in war to use technological advancements to promote peace and ensure safety of humans and not for their destruction.

"The conflict in Syria continues unabated through 2017, killing the highest ever number of children in 2016 and this is really worrying. We teachers are talking about empowering children with the latest technology, while some others are using technology to destroy the future generation," she noted.

Artificial Intelligence

Organisations are increasingly deploying emerging technologies such as Artificial Intelligence (AI) as part of their digital transformation initiatives, which will accelerate growth even further.

Microsoft technologist Liam Ellul described at the conference how AI and machine learning should be used for people's benefit.

Liam said AI must be designed to assist humanity. "Even as we build more autonomous machines, we need to respect human autonomy. Collaborative robots (co-bots) should take on dangerous work like mining, creating a safety net and safeguards for human workers.

"AI must maximize efficiencies without destroying the dignity of people. It should preserve cultural commitments, empowering diversity. To ensure this outcome, we need broader, deeper and more diverse engagement of populations in the design of these systems."

Liam believes the trajectory of AI and its influence on society is only beginning. "To truly grasp the meaning of this coming era will require in-depth, multi-constituent analysis. I believe that to create and manage innovations we cannot fathom today, we will need increased investment in education to attain higher level thinking and more equitable education outcomes. Developing the knowledge and skills needed to implement new technologies on a large scale is a difficult social problem that will take time to resolve."

"We need technological breakthroughs to drive growth beyond what we are seeing and I believe mixed reality, artificial intelligence and quantum are the types of innovations that will serve as accelerants," Liam added.

Progress in Sri Lanka

Microsoft, to help schools transform in Sri Lanka, has partnered with the Western Provincial Department of Education, Headstart, Commercial Bank and Dialog to launch Project Smart School and so far has helped 65 schools.

Microsoft said transforming the learning environment of a traditional secondary school into one that is smart and enabled by the latest technology is its mission. Since the programme's launch in 2016, a total of 65 public schools from the Western Province have found ways to create a digital learning system.

Microsoft Showcase Schools emphasize personalized learning for their students through the use of 1:1 learning devices and learning with current technology such as Office 365 Education, OneNote, Skype, Minecraft and more.

"The progress in technology adoption and change in instructional approach has been amazing so far," Gateway Colleges Change Management Team Leader Surani Maithripala said at the Education Exchange conference.

"All this began when I was invited to attend the Bett Asia Leadership Summit in Malaysia last year. That's where I came to know about all Microsoft technologies used in education. That really got me excited and I wanted to introduce them to my school. Our school is very progressive and is always on the lookout to bring the latest technologies into the classroom and make learning better.

"All our students are on the Microsoft 365 platform. That means all our students have their own user accounts. So, that made it easy for us to integrate the latest Microsoft products into the classrooms. Teachers too have Microsoft accounts. With all the work we have been doing, Gateway has been recognized as a Microsoft school and is in the process of becoming a Microsoft Showcase School.

"Microsoft's entry into education is extremely timely. Now is the time where everybody is becoming aware of the STEM (Science, Technology, Engineering and Mathematics) subjects and that is where most of the jobs are going to be in the future," she noted. Bandaranayake Central College Veyangoda English Literature Teacher Roshan Kumar, who has been one of the most innovative teachers (MIEE) last year, feels the MIE Expert Programme has had a huge impact on him. "I was just nothing before this programme. It was me going to the classrooms with just the books. My lesson plans look different now with cutting-edge technology. We do a lot of Skype sessions in our school daily and get connected to many countries in the world to share knowledge."

"I feel like we are doing nothing in Sri Lanka. There is a vast difference between our education system and the global education system. When attending conferences of this nature, we see a vast difference between our education system and the global education system. It is high time that we change the education system in Sri Lanka. Teachers should get involved more in technology-driven projects and they should be equipped with a lot of new technologies," Kumar emphasized.

Bandaranayake College Gampaha ICT Teacher Anuradha Buddhika Jayalath too shared a similar sentiment. He said the knowledge on modern computing is not equally spread throughout Sri Lanka. "There is a digital divide. Only a very few schools, both in urban and rural Sri Lanka, are connected with Microsoft's programmes. The government has to work more vibrantly as a third party between Microsoft and the schools and bridge the gap." He was also critical of the government's decision to halt the proposed tab distribution among schoolchildren.

Ghanaian school teacher

A Ghanaian school teacher, who used chalkboard drawings to teach computer science because his farming village had no laptops, found himself the star at the global conference in Singapore.

Richard Appiah Akoto, who drew coloured chalk diagrams to teach impoverished rural pupils how a PC works, rubbed shoulders with Silicon Valley hotshots in the glitzy Asian tech hub.

Akoto, who had never been outside of Ghana before, said he was invited to the Microsoft-sponsored meet after the video of his jury-rigged lessons went viral.
As a teacher of Information and Communication Technology (ICT) at a junior high school in the impoverished Sekyedomase farming village in Ghana, Akoto said he had to improvise because the school had no computer and his own laptop had broken down.

After pictures of the class were uploaded, the global response was immediate, with pledges of donations pouring in.

After a three-day conference in Singapore, at which he was given a standing ovation, the 33-year-old said the donations meant he would never have to resort to a chalkboard again. "I hope to get more computers so that every student will be behind one," he said.

"I also hope that the other surrounding schools who are also lacking like my school, we hope to get more so that we also give them (computers) to help in their teaching of ICT."

In the recent decades, many countries around the world have invested hundreds of billions of dollars in technology infrastructure – PCs, cell phones, tablets, printers, robots, smart devices of many kinds and vast networking systems to link them all.