---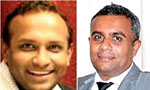 Vega, Sri Lanka's first electric super car will be sold at US$ 400,000 upwards, according to Codegen CEO Dr. Harsha Subasinghe who was speaking at the 59th LBR LBO CEOs Forum at the Cinnamon Grand recently.
"Middle East and Sri Lanka are the markets. There is a demand for exclusive cars," he said.
He further added t hat t he first prototype will be completed next month, and that once the commercial model is ready, only 40-50 cars will be created a year to maintain exclusivity.

Vega Engineering Consultant Tilak Dissanayake said that Vega's final aim is to provide city movers instead of just catering to stereotypical rich boys.
"We took a different approach. Instead of starting from the bottom and working up, we decided to create the technology needed for the far fringes," he said.
According to him, the company could then work its way down to family oriented cars, three seaters and even enclosed 2 seaters for cities and expressways.
Vega Project Manager Dr. Beshan Kulapala said the country will save US$ 2.5 billion a year on energy if the country relied completely on electric cars instead of fuel guzzlers, and that charging electric cars during off peak hours at night would help the Ceylon Electricity Board gain profits by utilizing power generated during those periods.

Dr. Subasinghe, a super car enthusiast who has driven exotic cars across the world, envisioned the project when he found out the cost of importing a Lamborghini or a Tesla Electric supercar was around US$ 1.1-1.3 million, which was available abroad for around US$ 400,000.He said that Vega will go head-tohead with Lamborghinis and Bugattis, with 0-60mph in 3.6 seconds.The car has a top speed of 220 km/h and a range of 220 km. It has over 900 horsepower and 720 nm of torque.
The car will be controlled by a software which runs an algorithm combining the driver's steering and gear selection and many factors affecting the car on the road, thereby reducing the response time of the vehicle.Other than the batteries, all other components of the car will be created in Sri Lanka at a fraction of the cost it has to be brought at.Dr. Kulapala said that the company will also make a hefty profit selling surplus parts to other electric car manufacturers and enthusiasts internationally.Vega Electronics Engineer Supun Amarasinghe believes that this innovation will motivate other companies to start similar ventures, prevent the intellectuals of the country from leaving, and bring back those who left, thereby creating a reverse brain drain.

Dissanayake said that he was a case in point, being living abroad most his life, and that a number of people who have studied abroad, or had well-paid jobs have instead joined Vega, both as employees or as volunteers. "If other companies want to start similar projects, I would happily volunteer," he said. The team believes that Vega will be better performing compared to Tesla and Rimac electric car models which will be its main competitors.