---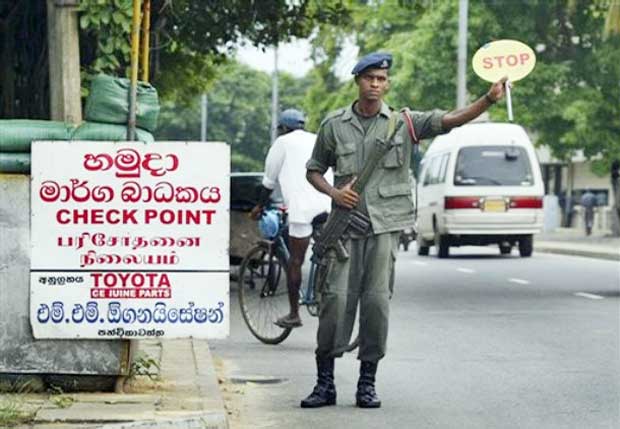 By D.B.S. Jeyaraj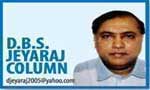 Exactly ten years ago on August 20, 2006 a member of the Catholic Clergy along with a member of the Catholic Laity went missing in the North.The clergyman was Fr. Thiruchelvam Nihal Jim Brown who was serving as a priest in the Catholic Diocese of Jaffna. The layman was Wenceslaus Vimaladhas a social worker.

The day in question was a Sunday. Fr. Jim Brown had assisted in the morning mass at the Kayts Church. He left Kayts at 12.30 pm on a red motor cycle NPGO 6486 with Wenceslaus Vimalathas riding on the pillion. Forty-year-old Vimalathas was the father of five children. Both went to Jaffna town where Fr. Jim Brown made some telephone calls .Thereafter they proceeded to Allaipiddy via the Pannai causeway leading to the Kurikadduvaan pier. Thirty-four-year old Fr. Jim Brown was the parish priest at Allaipiddy.

They obtained permission at the checkpoint manned by the Navy on the Allaipiddy Road Junction along the Pannai causeway at 2.15 pm. Fr. Peter Thurairatnam of the Naranthanai parish was there at the time and witnessed the two going towards Allaipiddy. He was the last known person to see them. Thereafter both Fr.Jim Brown and Vimalathas simply "disappeared" from the face of the earth. Both remain still among the thousands of Sri Lankans classified as "missing".

The passage of the bill to set up an Office of Missing Persons (OMP) has brought fresh hopes to the loved ones of those categorised as disappeared and missing in Sri Lanka. The Bill outlines four main functions for the envisaged OMP:

(i) Searching and tracing of missing persons;
(ii) Clarifying the circumstances in which such persons went missing and their fate;
(iii) Making recommendations to relevant authorities to reduce such incidents of missing and disappeared persons
(iv) Identifying proper avenues of redress.

Foreign Minister Mangala Samaraweera has explained very clearly that the OMP is not a law-enforcement or judicial agency and that it is only a truth-seeking investigative agency.

"The Office of Missing Persons is a truth-seeking investigative agency. It does not make judgements on disputes. In fact, the legislation states that, "The findings of the OMP shall not give rise to any criminal or civil liability." Its primary function is to establish whether a missing person is dead or alive and if he or she is dead, discover when, how and where they died."

It is against this backdrop therefore that this column seeks to re-visit the disappearance of Fr. Jim Brown ten years ago. The disappearance of the priest caused much distress among Tamil Catholics a decade ago. I was also very much concerned and wrote about the incident after it happened. I shall rely on such writings as I re-visit the circumstances in which Fr. Jim Brown and Wenceslaus Vimalathas went "missing" ten years ago on August 20, 2006.

St.Xavier's Seminary
Rev. Fr. Jim Brown born on June 4, 1972 had studied for the priesthood at St. Xavier's Seminary and ordained a priest in 2004. The young priest grew up in the Mannar Diocese when Most Revd. Thomas Soundaranayagam was Bishop and entered the priesthood under the Bishop's benign guidance. He was an active worker with a keen social conscience. According to Church circles Fr. Jim Brown was almost like a protegee of Bishop Soundaranayagam.
Fr. Jim Brown's greatest challenge came on August 12, 2006 when the LTTE landed in a flotilla of boats near St. Anthony's Church on the Mandaitheevu-Allaipiddy coast at about 11 am

He had been presumably named Jim Brown by his devout parents after a well known missionary priest who served in Jaffna during the '50s and '60s. The senior Fr. Jim Brown was the live-wire behind the renaissance of the Catholic Press of Jaffna and the diocesan flagship journal, "Sathiya Vetha Paathukaavalan". The young Tamil priest was named so by his parents to honour the senior Father Jim Brown.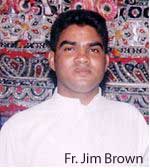 Fr. Jim Brown Jnr served his Obedience period in a Mannar Church. He was later appointed to the Allaipiddy parish. It was a very 'difficult' parish to serve due to the prevalent security situation. Allaipiddy has been very much in the eye of a storm at the time.

On May 13, 2006 four men went on a shooting spree in Allaipiddy. Nine people including a four-year-old child and a four-month infant were butchered in cold blood. The navy and the Eelam Peoples Democratic Party (EPDP) were implicated in this incident. Terrified civilians from the predominantly Catholic locality took refuge at St. Philip Neri Church. It was the then parish priest Fr. Amalraj who first went with villagers to the house where the residents had been shot dead.

Thereafter the panic-stricken people fled Allaipiddy. Some went to Kilinochchi. Others took refuge in two churches in Jaffna town and Navanthurai. After a while the people returned with security guarantees being given. Fr. Amalraj played a constructive role in giving leadership to the fear stricken community at its time of need.

Tower of Strength
Fr. Amalraj came under threat due to this. EPDP controlled and financed media organs and websites began accusing Fr. Amalraj of being a Tiger sympathiser. Several threats were issued. Security personnel in the area were hostile. Fearing for Fr. Amalraj's life the Church transferred him out of Allaipiddy to Poonagary. Fr. Jim Brown was posted to Allaipiddy. It was a courageous move by Fr. Brown to go to Allaipiddy under such circumstances. It was in the finest Christian tradition of "Here I am , Send me O Lord." The new priest with his youthful looks and bubbly charm became a popular priest in a very short time. The parishioners clung to him as people drowning would desperately hang on to a lifeline. Fr. Jim Brown was a tower of strength in their hour of need.
A much worried Jaffna diocesan hierarchy made representations to a wide section of people ranging from the UN Secretary General in New York to the Papal Nuncio in Colombo

Fr. Jim Brown's greatest challenge came on August 12, 2006 when the LTTE landed in a flotilla of boats near St. Anthony's Church on the Mandaitheevu-Allaipiddy coast at about 11 am. After brief exchanges of fire, the Naval personnel stationed at points along the coast withdrew to the main Navy camp at Allaipiddy. As fighting ensued frightened residents of Allaipiddy converged on St.Philip Neri's Church in Allaipiddy that was about 100 yards away from the coast. The LTTE contingent that landed near St. Anthony's Church then moved eastwards about 500 to 600 yards and reached St. Philip Neri's Church.

St. Philip Neri Church
The Tigers told the huddled civilians at St. Philip Neri Church not to worry because the LTTE was going to liberate the area. The Tigers said they were only the advance column and that thousands of LTTE fighters would land in boats very soon. Thereafter the LTTE fired off a few rounds in the direction of the Allaipiddy camp. This resulted in the Navy firing back. Some shells landed in the vicinity of St. Philp Neri's Church now crowded with civilians. After a few hours of intermittent firing from within the vicinity of St. Philip Neri's Church the Tiger contingent withdrew from the area at about 3.45 pm. Thereafter the Tigers took cover at St. Anthony's Church for a few hours.
Subsequently the Tiger advance party was informed by the LTTE hierarchy that the "Allaipiddy invasion" was off. The Tiger squad was ordered to pull back. The LTTE left Allaipiddy in their boats after nightfall close upon midnight on the 12th.

The Navy and Army however, were not taking any chances. They kept on firing sporadically towards the Mandiatheevu-Allaipiddy-Mankumban coastal areas. In the early hours of the morning on August 13, 2006 the army camps in Jaffna town began using multi-barrel rocket launchers to fire on the Allaipiddy-Mandaitheevu areas. Both Mandaitheevu and Allaipiddy are island areas situated only a short distance away from Jaffna town. Soon long range artillery was fired from Palaly also. Some of the shells fell in the vicinity of St. Philip Neri's Church and a few on the church itself. The church was damaged extensively by shells falling at about 4.30 am on August 13. Tragically 16 people taking refuge inside and four outside the church were killed while 54 people were also injured. With many of the injured dying in the days that followed the final civilian death toll rose to 36.

Fr. Jim Brown was sleeping in the Church vestry when the shells landed. Providentially neither the vestry nor the altar were damaged by the shelling. At first light Fr. Brown placed some of the most seriously injured in a van and drove it himself towards the Allaipiddy junction. His intention was to proceed along the Pannai causeway to Jaffna town and admit the injured to the Jaffna teaching hospital. The Navy stationed at Allaipiddy junction refused to let him proceed. Fr. Jim Brown then got down on his knees and pleaded with clasped hands to let him pass and take the injured to hospital. A naval rating then tried to kick the kneeling priest. However a superior officer stopped him and after inspecting the injured let Fr. Brown proceed towards the Jaffna Hospital.

Ms. Srinidhi Nandasekaran
After admitting the injured to the Jaffna hospital, Fr. Jim Brown returned with three other Catholic priests. They were stopped at the Allaipiddy junction by the Navy. Before returning from Jaffna Fr. Jim Brown informed the then acting Kayts Magistrate Srinidhi Nandasekaran of the serious situation and requested her urgent assistance. Ms. Nandasekaran was then the Additional Magistrate in Jaffna. Since the Kayts Magistrate Jeyaram Trotsky was on long leave Ms. Nandasekaran had been made Acting Kayts Magistrate in August. She promptly contacted the Police and ascertained the facts.

Due to Ms. Nandasekaran's intervention the transport restrictions were lifted. The Magistrate herself accompanied a convoy of three ambulances to Allapiddy. The Ambulances were from the Jaffna Hospital, International Red Cross and the St. Johns ambulance service. When the convoy reached Allaipiddy junction, Fr. Jim Brown and three Catholic priests were waiting there. Fr. Brown then accompanied the Magistrate and went along with a convoy of ambulances and vehicles to transport the injured to the Kayts and Jaffna Hospitals. Most of the injured were taken to Jaffna and also to Kayts by the ambulances and other vehicles in three or four trips. Fr. Jim Brown endeared himself to his parishioners by giving leadership at this critical juncture.

After the artillery firing subsided Fr. Jim Brown gathered the people and marched towards the security barriers pleading that they be allowed to go elsewhere for safety reasons. The navy and army refused to let the people go. But Fr. Jim Brown's persistent pleas made the authorities relent. Permission was given to move to "Oorkavalthurai" (Kayts) town. Thereafter with the help of Catholic priests from Kayts, vehicles were brought and more than 850 Allaipiddy parishioners were transported and housed at St. Mary's Church in Kayts. A few suffering from illnesses underwent treatment at the Kayts hospital.

Thereafter Fr. Brown shuttled between Allaipiddy, Kayts and Jaffna tending to his dispersed and dejected flock tirelessly. After providing food and water to the displaced parishioners for two days, Fr. Jim Brown along with Fr. James of Kayts came to Jaffna. They obtained the aid of Caritas to cater to the needs of the displaced. Many had fled with only the clothes they were wearing. Fr. Brown persuaded the authorities to allow provisions in bulk to be taken to Kayts. He also obtained permission for the people to return to Allaipiddy and take away some clothes and other essential items.

Links to the Tigers
Signs of positive leadership among the beleaguered Tamil community used to be frowned upon by the powers that be. Besides Christian priests have been regarded suspiciously as being sympathetic towards the LTTE. Ever since the arrests of Fr. Singarayer and Fr. Sinnarasa in 1982 on charges of maintaining links with the Tigers there has been a general suspicion that Tamil Catholic priests were closet supporters of the LTTE. Veteran cartoonist Wijesoma drew a memorable caricature then of a Tiger tail jutting out from under the cassock of a priest. The fact that both Singarayar and Sinnarasa were discharged by the Courts years later is not remembered.
Kayts Magistrate Srinidhi Nandasekaran was informed of Fr. Jim Brown's disappearance by a Catholic priest on the morning of Aug 22. She asked church authorities to lodge an entry with the Police

Many Tamil Catholic priests were treated with suspicion and constantly harassed.In one instance two priests taking some barbed wire to Jaffna from Colombo were detained. Some priests paid the supreme price. Fr. Mary Bastian from Vankalai went missing in 1985 with some others. They were never found. A few days later Rev. Jeyarajasingham, a methodist priest and his wife were found burnt to death in their vehicle at Murunkan. An American Jesuit priest in Batticaloa, Fr. Eugene John Hebert went missing while travelling through Eravur in 1990. Another priest. Fr. Selvarajah went missing in Sorikalmunai in Amparai district the same year. Fr. Wenceslaus at Tholagatty monastery was killed in 1986 by security forces. Fr. Chandra Fernando of Batticaloa was shot dead in 1988 by EPRLF/ENDLF assassins.

In such an environment, Fr. Jim Brown too was viewed with suspicion. As in the case of his predecessor Fr. Amalraj, several threats were made to Fr. Jim Brown too. One accusation levelled against him by the local chief of navy at Allaipiddy was that he along with other civilians had helped dig bunkers for the LTTE. The priest politely denied these charges and went about with his work fearing only God in heaven and no man on earth.

It was on Saturday, August 19 that he met his Lord Bishop and related all what had befallen Allaipiddy. He declined an invitation to stay on at Bishop's House saying he had to take drinking water to the displaced parishioners at Allaipiddy. Thereafter Fr. Jim Brown returned to Kayts.
On the following Sunday, August 20, Fr. Jim Brown assisted in the morning mass at Kayts. He then left Kayts at about 12.30 pm on a red motorcycle NPGO 6486 with a lay social worker riding on the pillion. Fr. Jim Brown's ill-fated companion was 40-year-old Wenceslaus Vimalathas known generally as Vimalan. Initially Fr. Jim Brown wanted the Navy to let him go to a Hindu temple in Mandaitheevu where some Allaipiddy Catholics had taken refuge. He wanted to conduct Sunday mass for them. The Navy refused to let him enter Mandaitheevu.

Allaipiddy Junction
Fr. Brown and Wenceslaus then proceeded to Jaffna town to make some urgent telephone calls. Afterwards they were on their way back to Allaipiddy.While proceeding along the Pannai causeway they were joined by Fr. Peter Thurairatnam of the Naranthanai parish who was also riding a motorcycle. The time was about 2.15 pm when the trio reached the Allaipiddy junction. After a sharp exchange of words with the naval personnel at the checkpoint Fr. Jim Brown and Wenceslaus Vimalathas were allowed to proceed towards Allaipiddy. Fr. Thurairatnam went on towards Naranthanai. This was the last time any known person had seen Fr. Jim Brown and Vimalan.Thereafter they simply disappeared.

Priests and parishioners became worried at their absence and alerted Church leaders. The Kayts police were also informed. Since they had been last seen at Allaipiddy junction inquiries were directed there first. Church authorities were informed that Fr. Jim Brown and his vehicle had been registered 'in' at Allaipiddy at 1.50 pm. They were then registered 'out' at the same post at 2.10 pm. Fr. Thurairatnam however said that they were at Allaipiddy junction at 2.15 pm and not 1.50 pm as the Navy indicated.

Kayts Magistrate Srinidhi Nandasekaran was informed of Fr. Jim Brown's disappearance by a Catholic priest on the morning of Aug 22. She asked church authorities to lodge an entry with the Police. She then proceeded with the Police to the Allaipiddy checkpoint in the afternoon of August 22. She too was told that Fr. Jim Brown had entered Allaipiddy at 1.50 pm and exited at 2.10 pm. The magistrate then asked Police to take charge of the Navy logbook recording "ins" and "outs". The Navy refused to let the Police have the logbook. The Magistrate then left with the Police. As they returned to Jaffna guns were fired into the air by navy personnel at Allaipiddy.

Ms. Nandasekaran who intended pursuing the Fr. Brown disappearance matter further was in for a rude shock on Monday August 23. She was relieved of her duties as Acting Kayts Magistrate by the Judicial Services Commission (JSC). She was instructed to revert to her duties as Jaffna Additional Magistrate and desist from any activity falling under the jurisdiction of Kayts, After a few months she was transferred to the Juvenile Courts in Colombo. This was the time when Sarath Nanda Silva functioned as the Chief Justice of Sri Lanka. He virtually ruled the judicial roost in those days. The quest to discover the truth about Fr. Jim Brown's disappearance was seriously jeopardized after the authoritative "Silencing"of Magistrate Srinidhi Nandasekaran.

Rear Admiral Upali Ranaweera
Routine Police investigations as well as inquiries made at all Catholic Churches in the peninsula failed to reveal any information about the missing priest and his pillion rider. It was feared that they had been apprehended by the navy or its EPDP lackeys at Allaipiddy. Bishop Thomas Soundranayagam contacted Rear Admiral Upali Ranaweera, Northern Region Commander of the navy. Ranaweera who denied that the two men were arrested, reiterated the navy version that both had entered Allaipiddy at 1.50 pm and left through the Allaipiddy checkpoint for Jaffna at 2.10 pm. Some 72 hours after they went 'missing' it became apparent that both had 'disappeared' without a trace.

A much worried Jaffna diocesan hierarchy made representations to a wide section of people ranging from the UN Secretary General in New York to the Papal Nuncio in Colombo. The Human Rights Commission, ICRC, Kayts Magistrate Courts, 51st Brigade Commander, etc. were all notified of their disappearance. Amnesty International issued a statement. the Catholic clergy and laity in Mannar and Kilinochchi staged hunger fasts, silent processions, etc. and submitted petitions to local and international officials. Church services were held widely entreating the almighty.
On August 29, 2006 Catholics converged at the Church of Our Lady of Refuge on 4th Cross Street, Jaffna and proceeded to the Cathedral in procession carrying placards with Fr. Jim Brown's picture. As they reached the water tank checkpoint on main street they were stopped by the army who refused to let them proceed citing emergency regulations. No amount of pleading by priests made them relent. Thereafter the people turned back.

An adoration service was held at St. Johns Church, Jaffna on August 24, 2006 to pray to God for the safety of Fr. Jim Brown and layman Wenceslaus Vimaladhas. Bishop Soundranayagam also participated in this service and shared his thoughts and experiences about Fr. Jim Brown. The Bishop had last met the priest on Saturday, August 19. In a very long conversation the priest had told his superior about what had happened in Allaipiddy the week before when the LTTE had launched an operation in the area and how more than 850 members of his parish were displaced.

When the Bishop had asked the priest to stay on in Jaffna at the Bishop's House the latter had replied that he needed to go back to supply drinking water to the displaced people. "Lord, my people are waiting for drinking water, I'll deliver these water bottles and then I'll come back", he had said. As the Bishop continued he observed, "When his parents come and ask me - Lord we gave our son to you to serve God and where is he now? - how could I answer them now." An emotionally upset Bishop could not speak further at this point. He was silent for a while and then recovering continued with his address.

Bishop Thomas Soundaranayagam
This manifestation of personal trauma on the part of Bishop Thomas Soundaranayagam may help explain the prelate's mindset at that time in opting to recall priests serving under dangerous conditions. Members of the Catholic faith in Jaffna were greatly agitated after Fr. Jim Brown's disappearance when it became known that the diocesan hierarchy was actively considering the recalling of priests from parishes in problematic, insecure areas. If the decision was implemented Catholic priests from the northern islands, Vadamaratchy East and some parts of Thenmaratchy would have had to leave their churches and take up residence temporarily at Colombothurai in Jaffna.
The 'shepherds' would have been naturally absent when their respective 'flocks' were undergoing great hardship and fear. Naturally the Catholic laity of those areas were agitated and upset about this. So too were other parishioners in other areas of Jaffna. There was so much anguish and tears. 'Do not desert us at our time of peril and need', many sobbed and wailed. Emotional appeals were made to the then Jaffna Caholic Bishop Most Rev Dr. Thomas Soundranayagam. The prelate took the feelings of his flock into consideration and changed his mind. The endangered flocks got their shepherds back again.

Most Rev. Thomas Soundaranayagam is now retired. He was in Toronto on a short visit a few years after Fr. Jim Brown went missing. I had the opportunity then of meeting Bishop Soundaranayagam and conversing at length with him. During that conversation I could gather what had impelled Bishop Soundranayagam then to contemplate such a drastic measure of recalling priests from unsafe areas. It was out of a sense of concern and anxiety over the safety of Catholic clergymen in Jaffna.

Given the uncertain and unsafe conditions prevalent in Jaffna, the Bishop felt that his priests should not be exposed to danger unnecessarily. He was particularly worried about the younger priests and those in charge of churches facing insecurity in coping with security forces-related problems in unsafe areas. I also realized that the primary reason for Bishop Soundranayagam to have even thought of this move at that time was due to an emotional upheaval on a personal basis. The Bishop had been deeply troubled and saddened by what had befallen Fr. Thiruchelvam Nihal Jim Brown.

Office of Missing Persons
Ten years have passed since Fr. Jim Brown went missing. A new dispensation under President Sirisena and Prime Minister Wickremesinghe is in power. Legislation to set up an Office of Missing Persons (OMP) has been passed. It is premature to speculate on how this envisaged OMP would function or when it would commence work. There is no doubt however that the case of Fr. Jim Brown's disappearance would prove to be a major challenge to the OMP when and if it gets off the ground. The mystery of the missing Tamil Catholic priest needs to be solved by the OMP. The truth needs to be revealed.

D.B.S.Jeyaraj can be reached at dbsjeyaraj@yahoo.com