---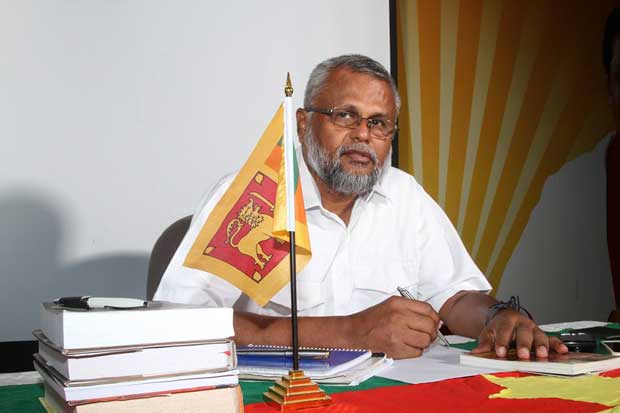 With reference to two articles written by our columnist DBS Jeyaraj, dated August 13 and 20, EPDP General Secretary and Jaffna District MP Douglas Devananda has written a Right of Reply (RoR). We here publish the RoR together with writer D. B. S. Jeyaraj's response to it.
Mr. Douglas Devananda's Reply
In the last two successive weekends, your newspaper carried articles by journalist DBS Jeyaraj who writes from Toronto, namely, "White vanning culture and the lucrative business of abducting Tamils" [August 13-DM] and "When a catholic priest went missing in Jaffna ten years ago" [August 20-DM]. Both articles contain unsubstantiated allegations and factually incorrect positions which I shall elaborate herein below.

I have consistently voiced my concern in Parliament and other fora that we have to investigate all human rights violations that have occurred since 1983 or even before that period if possible.
In his article on August 13, "White vanning culture and the lucrative business of abducting Tamils," his paragraph on 'Enforced Disappearances,' he says the LTTE operatives were abducted and killed by the EPDP, allegedly, which is the party I represent. He also alleges that 'EPDP cadres or members of the Karuna group abducted Muslim businessmen for ransom and were supervised by Sinhala handlers.' The words 'Sinhala handlers' are his allusion to the security intelligence services. I wish to categorically state that I nor the members of the EPDP ever abducted businessmen or any person for ransom or any other reason, and would like Mr. DBS Jeyaraj (if he is so sure and confident of his facts) to provide such information or proof such as affidavits or other relevant statements of any criminal activity if I have done so, because the current political climate is very conducive and suitable for such submission of information to any relevant commission of enquiry.

Mr.DBS Jeyaraj then goes onto say that most wealthy persons so abducted after paying ransom left our shores and are now resident in Singapore, Thailand, Malaysia and Western countries. Therefore, he now has the easy task of collecting concrete evidence in the form of affidavits or other documents admissible in a Court of Law of Sri Lanka to prove his so-called facts. When writing about these incidents, he uses innuendo, unsubstantiated allegation, and downright prevarication.

When he does not know the truth, he says 'the abduction was done by the EPDP or Navy'; he makes a serious unsubstantiated allegation. In his article on August 20, he says "they were apprehended (Fr. Jim Brown and his pillion driver) by the Navy or by the EPDP lackeys at Allaipiddi."

This statement reveals the fact of his confession, that he does not know who apprehended Fr. Jim Brown and his pillion rider, by giving two categories of persons essentially 'Navy or EPDP lackeys,' meaning the persons who do the dirty work of the Navy. By definition the word lackey is 'Servile foot men' which is a derogatory term which was used by the LTTE in the past to describe the EPDP. This adjective exposes his subjectivity and attitude towards the EPDP.

I quote his article on August 20 [Daily Mirror – D.B.S. Jeyaraj column] "When a catholic priest went missing in Jaffna ten years ago" ]

St Phillip Neris Church. "The Tigers told the huddled civilians at St Phillip Neris Church not to worry because the LTTE was going to liberate the area .The Tigers told them that it was only the advance column and that thousands of LTTE fighters would land in boats very soon." By saying this, he establishes that the Tigers are supportive of the huddled masses and will do nothing to harm them. This, in his logic, insinuates that can leave only the EPDP and the Navy as the only group capable of harming Tamil civilians in the church. Father Jim Brown was also reported to be sleeping in the church vestry.

Soon after Fr. Jim Brown and his pillion driver were reported missing after crossing the Navy check point.

In this same article he says 'On 13th May four men went on a shooting spree in Allaipiddy'……and also states 'The Navy and EPDP were implicated in this.' I was surprised to see this statement because I was not aware that DBS Jeyaraj had implicated EPDP in a shooting spree in May 2006 till I read his article.

I would like to clearly obtain some facts about this allegation because it will have serious implications on my political party and my political reputation. DBS Jeyaraj by not clearly stating by whom (and the credibility of the unverified source used) and why, (motive to tarnish the EPDP) by trying to implicate the EPDP, manifestly shows that this is merely a puerile attempt at character assassination of and mudslinging at the EPDP. These unsubstantiated allegations are not the first but the culmination of a series of allegations that he had made against me and the EPDP.

Yours Sincerely,
Douglas Devananda MP
Jaffna District
General Secretary
EPDP
---
D.B.S. Jeyaraj's Response
1. The linkages between the Sri Lankan defence establishment and the Eelam People's Democratic Party (EPDP) described as a 'paramilitary group' have been well-documented at a high international level. The following is an excerpt from the Office of the UN High Commissioner for Human Rights (OHCHR). Investigation report on Sri Lanka (OISL) presented at the 30th session of the UN Human Rights Council (UNHRC) in September 2015 -
Paramilitary Groups

A). The groups listed below are the main Tamil paramilitary groups and parties which were allegedly involved in security operations with the Sri Lanka security forces, as well as independently carrying out their own activities during the period under review. The term 'paramilitary groups' is also sometimes used to refer to the aforementioned Home Guard system which was operating under the Civil Service Department. However, the Home Guard's links to the security forces are official, unlike the groups mentioned below, whose links with government forces were denied.

B). Over time, the involvement of paramilitary groups with government security forces became increasingly clear, as has been documented by the SLMM, various Special Rapporteurs and others. In his follow-up report on May 14, 2008, the Special Rapporteur on extrajudicial executions wrote; 'There are also strong indications that these factions no longer constitute truly-independent armed groups, but instead receive direction and assistance from the security forces.' [1] These links between the Government (primarily the Secretary of Defence), security forces (in particular the SLA and the Police STF) and with the paramilitary groups were also highlighted by witnesses interviewed by OISL and other sources. A number of witnesses point to close links between Military Intelligence and both the Karuna Group and EPDP.

2. On October 1, 2015, the UN Human Rights Council passed a resolution with the stated objective of promoting reconciliation, accountability and human rights in Sri Lanka. The Sri Lankan Government of President Maithripala Sirisena and Prime Minister Ranil Wickremesinghe committed itself to the implementation of the resolution by co-sponsoring it.

3. The Sri Lankan Govt. passed a bill in August 2016 to set up an Office of Missing Persons (OMP) as a preliminary step in fulfilling its commitment in implementing the UN resolution. The envisaged OMP will take up the related issues of enforced disappearances and missing persons in Sri Lanka.

4. The period of investigation by the OMP will be from February 2002 to May 2009 as in the terms of reference followed by the Lessons Learnt and Reconciliation Commission (LLRC).

5. The column written by me on August 13, 2016, was about enforced disappearances, missing persons and abductions for ransom of Tamil people during the 2006 -2009 period.

6. The column written by me on August 20, 2016, was about a Tamil Catholic priest who had gone missing from Aug 20, 2006.

7. The matters and course of events related in both articles fall under the purview of the proposed Office of Missing Persons (OMP) as they occurred in the period 2006 to 2009.

8. There are sufficient reasons to believe that affected families of the disappeared and missing persons have supplied information to relevant authorities and agencies and/or are prepared to provide further information into the matters stated in my articles.

9. It is to be hoped therefore that the whole truth about the incidents referred to in my articles would be revealed in due course and alleged perpetrators identified.

D. B. S. Jeyaraj