---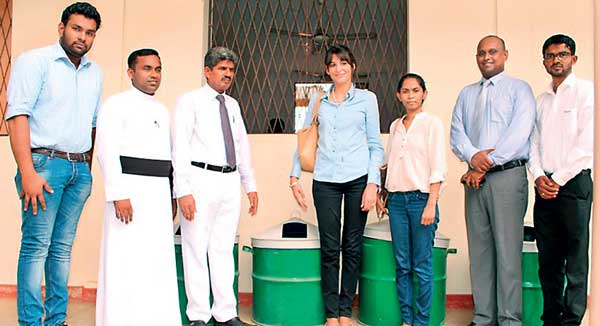 Schools are known to accumulate tons of waste. Through learning proper waste management, school students have an ideal opportunity to make a significant impact on the environment and their families.
Holcim Lanka, a member of the LafargeHolcim group and pioneer in sound environmental practices, recently shared its waste management expertise through a series of programmes involving schools in the
Puttalam District.
The programme targeted more than 500 school children in the area including students attending St. Andrew's College, Medananda Vidyalaya, Kalladiya Sinhala Vidyalaya, Palavi Sinhala Vidyalaya and Palavi Muslim Vidyalaya. The initial campaign was launched recently at St. Andrew's College.
The Holcim Lanka campaign is aligned with its policy of taking its expertise and experience in waste management through recycling operations for environmental sustainability to the grass roots to make a greater and more focused impact on society. Waste bins were provided to the schools along with informative signboards on how to minimize waste. Additionally, posters on changing student behaviour and preventing them from throwing garbage negligibly were also widely distributed and displayed.
The company firmly believes
the programme will
prepare a foundation to teach youth the need for waste segregation and recycling as a vital component of environmental sustainability.
"As a socially responsible organisation, Holcim Lanka continues to launch initiatives that are relevant for the development of our community. Our latest programme with the Puttalam schools aims to raise awareness about the importance of protecting the environment through proper waste management," said Holcim Lanka Head of Sustainable Development, Communications and External Affairs Farzana Khan.
"We have reached out to children as we believe enlightening them will result in the creation of a whole new generation of socially and environmentally concerned citizens," she added.