---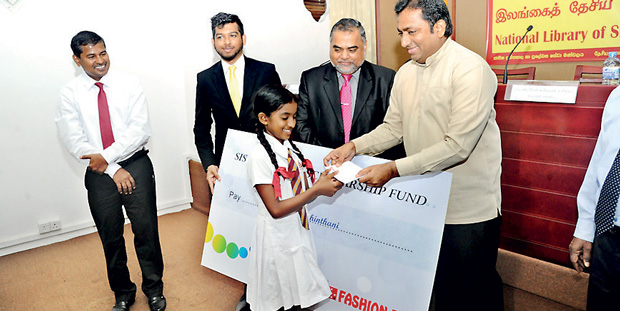 A scholarship being presented to Sachinthani Bagya Samaradivankara by Education Minister, Akila Viraj Kariyawasam
Fashion Bug, Sri Lanka's leading fashion retail chain announced that as part of its Corporate Social Responsibility it has awarded a scholarship to Sachinthani Bagya Samaradivankara who is a student of Sirimawo Bandaranayaka Vidyalaya, Haguranketha under its award winning Sisu Diri Maga initiative.
The scholarship was presented to the student at the main auditorium of the National Library by Minister of Education Akila Viraj Kariyawasam last week.
"The Sisu Diri Maga program represents a core value at Fashion Bug which is to give back to the community in a ways that is direct, sustainable and meaningful," said Shabier Subian, Director at Fashion Bug.
The Sisu Diri Maga is the Educational CSR platform of Fashion Bug and has completed serving 28 schools with over 11500 students who have been directly benefitted.
"We launched this programme with the intention of helping school leavers who need guidance regarding their future career paths. It is our aim to conduct these programmes in a total of 120 schools, thus benefitting over 100,000 students in total", said Deputy General Manager, Dr. S.H.M. Faraaz.
A number of projects have got under way as part of Fashion Bug's Sisu Diri Maga scheme; namely the drinking water project that was completed and presented to the Ovitigamuwa Maha Vidyalaya, the donation of the computer unit at the Thumbe Kanishta Vidyalaya, and most recently the sponsorship of the Dhammikka Kithulgoda scholarship foundation in the presence of Thilanga Sumathipala - The Deputy Speaker of the parliament of Sri Lanka and the President of Sri Lanka Cricket council.
To-date, Fashion Bug has completed several CSR programmes within the Sisu Diri Maga Foundation, while other CSR programmes too have either been completed or are ongoing.
"Each Fashion Bug outlet works closely with its community. We have close links with the community centres and religious communities of all religions and we actively participate in and contribute to all their events." said Shabier Subian Director
Fashion Bug.