---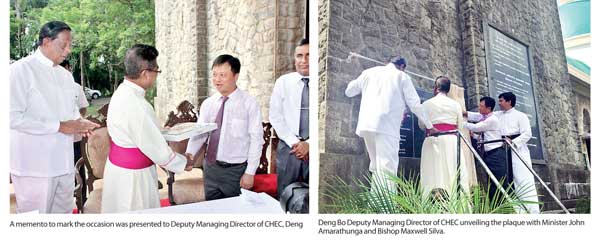 The China Harbour Engineering CompanyLtd (CHEC) which undertook the restoration of the roof and terraces of the 'Basilica of Our Lady of Lanka' completed the project and officially handed it over to the Catholic Church recently.

The engineers and contractors of China Harbour worked with the architects of the building, local authorities and the parish priest to ensure that the work was carried out according to expected standards, completing the project in little over an year.

The handing over ceremony, which took place at the Basilica on Sunday, 12thJune, was attended by Right Rev. Dr. Maxwell Silva, Auxiliary Bishop of Colombo, John Amarathunga, Minister of Tourism Development & Christian Religious Affairs, Episcopal Vicar Farther Placidus de Silva, Deputy Managing Director of CHEC Deng Bo and several other dignitaries from the Catholic Church, Government and the private sector.

Addressing the gathering, Deputy Managing Director of China Harbour, Deng Bo said he was thankful to Cardinal Malcolm Ranjith and Minister John Amarathunga for providing them the opportunity to take on the restoration project. He said that as an organisation, China Harbour has always given priority to social responsibility. "We have worked to provide equal job opportunities, better healthcare services, education and foster culture and religion. Our understanding and respect for other cultures have lead us to fund many aid projects in different parts of the world. Therefore it has been a privilege to the CHEC team to have carried out this work."

Right Rev. Dr. Maxwell Silva, Auxiliary Bishop of Colombo thanking China Harbour for their support said that the restored Basilica for which China Harbour undertook the funding as well as the work was a gift by CHEC to Sri Lanka.".

The Bishop said that the occasion was made even more significant as the Minister, had handed over the formal gazette notice declaring the Basilica of Our Lady of Lanka a national shrine. On behalf of the Catholic Church and Cardinal Malcolm Ranjith, he thanked the Ministry of Christian Affairs and all relevant authorities for making it a reality.