---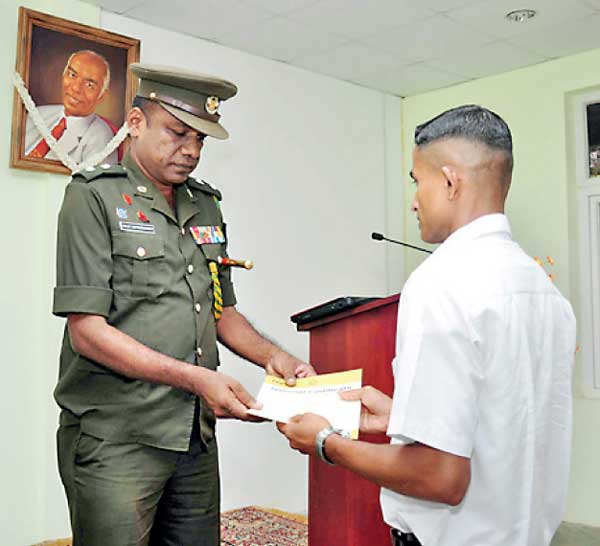 Lieutenant Colonel Nalin Hettiarachchi, Commanding Officer, NCOTS, Sri Lanka Army, presenting certificates
The seventh certificate awarding ceremony of the A.Y.S. Gnanam Construction Training Academy was held recently in Dambulla. The prestigious event saw the awarding of internationally and locally recognized NVQ Certificates to 107 apprentices, comprising of 56 SL Army personnel, 38 skilled masons with prior experience and 13 novices entering the profession afresh.

Ravi Dias, member of the board of directors of the Tokyo Cement Group, as the chief guest of the event was joined by, Colonel Kamal Pinnawala, Commandant, Non Commissioned Officers Training School (NCOTS) of the Sri Lanka Army, Lieutenant Colonel Nalin Hettiarachchi, Commanding Officer, NCOTS, Sri Lanka Army, Anura Dissanayake, Director General, Mahaweli Authority of Sri Lanka, Deshamanya Sunil P. Liyanarachchi, Chairman of National Construction Association (NCASL) of Sri Lanka, Jayathissa Banda, Coordinating Officer, National Apprentices and Industrial Training Authority (NAITA) and representatives from the Tokyo Cement group.

Mouly Gunaratna, Consultant Engineer of Tokyo Cement Company (Lanka) PLC, addressing the gathering highlighted the far-reaching impact of the training academy since its inception in 2012. Established in memory of the founder Chairman of Tokyo Cement Company, the late Deshamanya A.Y.S. Gnanam, the academy offers residential training programmes for both craftsmen already engaged in masonry as well as for school leavers, grooming them for the National Vocational Qualification (NVQ) Level 3certificate.

The certificate avails the trainees to local as well as international employment, opening up greater income opportunities. Hailed as one of the Tokyo Cement group's foremost citizenship initiatives, the training academy, dedicated to masons and other construction professionals from all corners of the country, was set up in a bid to uplift the standards of the industry.

The academy situated in Dambulla, comprises a fully-fledged auditorium, modern laboratory complex and practical training facilities inclusive of all tools and raw material required to conduct comprehensive training sessions that produce a well-rounded masonry professional. It also includes a dormitory complex that can accommodate 50 students, providing a conducive learning environment under the guidance of a qualified panel of instructors and visiting lecturers, to attain their formal training free of charge. The seventh batch that passed out of the institute included 56 military personnel attached to various regiments of the SL Army. Having dedicated their lives in the battle front, these military personnel have now come forward to serve the country's mission to rebuild, by arming themselves with a recognized qualification. Speaking at the occasion, Colonel Kamal Pinnawala, Commandant of the Non Commissioned Officers Training School of the Sri Lanka Army emphasized how the certification will further enhance the skills of the army personnel and give them yet another opportunity to rise to the call for nation building. He added that the formal training and the professional accreditation gained at academy by the military personnel will enable them to boost their careers and uplift their social status, even after retiring from duty and open up a range of new avenues to add value to the priceless service they offered their motherland.