---
​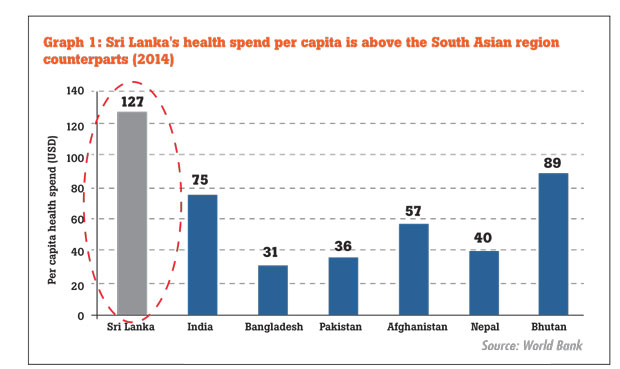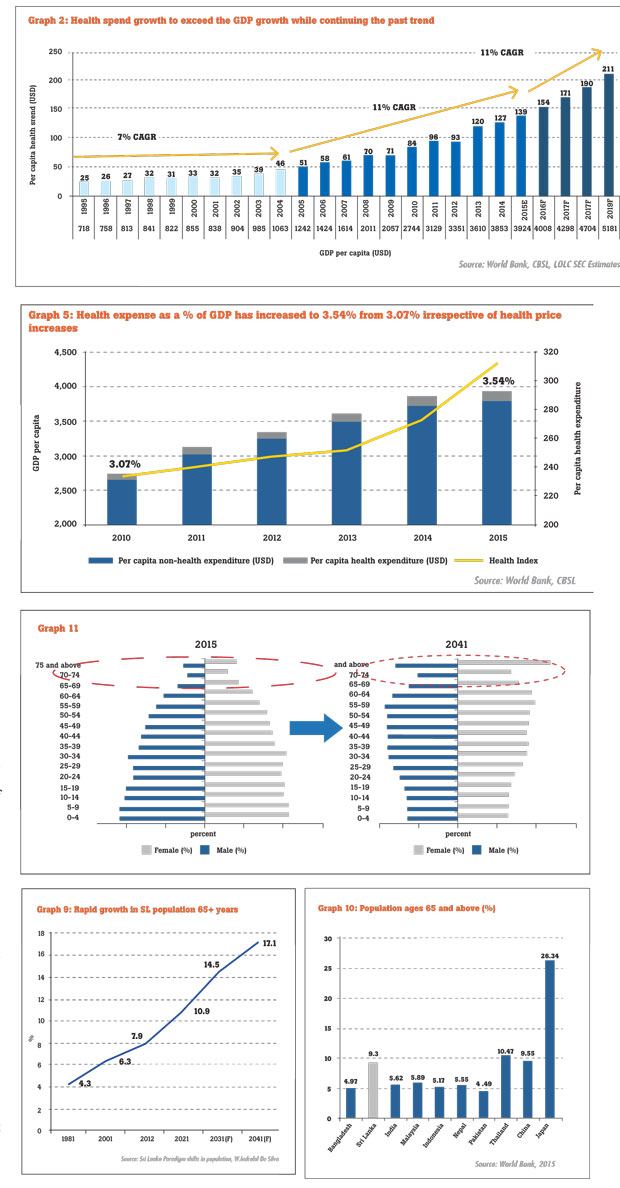 Sri Lanka is just a few years away from reaching the higher-middle-income band. However, the per capita healthcare spend is significantly below the average per capita for higher-middle-income countries (although it is above the South Asian peers), highlighting the growth potential in the mid to long term.
Despite state hospitals' dominance, the number of private sector beds keeps on increasing at a higher rate due to increased demand for private health services.
Inelastic demand further remarks a positive sign for the industry indicating that demand will not be adversely affected due to price increases.
Potential improvement in penetration levels of insurance (health) will provide an upside by making private health services more affordable to the public.
Ageing population and increasing non-communicable diseases (NCDs) create more frequent demand for inpatient and outpatient care services as well as laboratory and other support services.
Impending industry challenges are expected to hinder the growth prospects of the industry in the short-run. But due to the defensive nature of the industry, the private healthcare sector will continue to see an upside in the long-run.

Sri Lanka's per capita health spend is relatively low compared to the average per capita health spend of upper-middle-income countries albeit the country maintains better health indicators in the region. In the two-tier health system, Sri Lankan public sector provides free medication while the private sector services more affordable patients.
While there is a dominance of public sector in Sri Lanka's healthcare system, private health sector could see a strong upside in medium to long term with expected increase in disposable income amid industry challenges such as indirect tax hikes. Further, price-resilient demand, growth in medical insurance, expanding ageing population and rise in NCDs will continue to drive the demand for private health services.
Rise in per capita income to result in more demand for private health providers
Sri Lanka's health spend per capita has seen a rapid average annual growth of 11 percent during the last decade and also it remains above South Asian counterparts. However, it lags behind the world peers of the upper-middle-income category, which suggests that the country's health spending is poised for a strong growth potential.


Furthermore, statistics also reveal that there is a strong correlation between income levels and health outlays of the country. This is due to the fact that demand for health rises as households become richer, in order to extend and improve their quality of life.
With Sri Lanka is expected to steer through the upper-middle-income stage surpassing the gross domestic product (GDP) per capita of US $ 4000, we could expect to see a sharp rise in per capita health spend in coming years based on this relationship. Accordingly, we project 'per capita health spending' to be increased at an average annual growth of 11 percent for 2016-2019, providing a strong impetus to the local healthcare industry.
While state hospitals dominate the health industry with 76,781 beds, the number of beds of private sector hospitals has been kept on increasing with increased affordability of patients and the government failing to meet the growing demand. Amid this historic growth in private health, we continue to envisage a significant demand for private healthcare based on our industry growth expectations.

Price-resilient demand
Considering the recent trend of price levels and health expenditure, per capita health spending has remained and slightly risen irrespective of the changes in prices remarking a 'price inelastic demand' (less sensitive to price changes). Healthcare being a basic need in human life, price inelasticity provides a positive sign for the service providers indicating that demand will not be adversely affected due to price increases.

Expected growth in medical insurance
One of the key limitations of private healthcare growth has been the insufficient healthcare insurance coverage (low insurance penetration) making it less affordable for the public. Most of the private health spending is expended by households while their employers contribute 7 percent, where as private insurance contributes about 5 percent of the total private financing.
Further, when compared with the upper-middle-income countries, Sri Lanka's health spending financed by private pre-paid plans remains significantly low. But with expected growth in the insurance industry backed by rising income levels, we expect the penetration levels to improve in health insurance, thus providing an upside for the private health sector as well.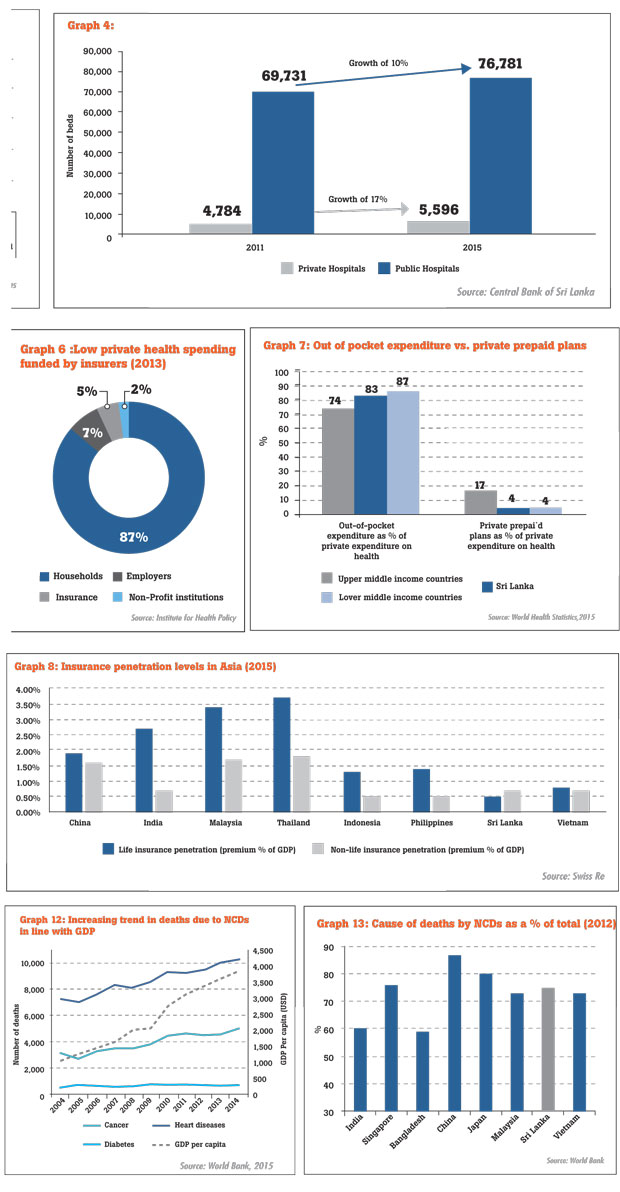 Expanding ageing population
Sri Lanka's population is one of the oldest in South Asia and is also one of the fastest ageing populations in the world being demographically on par with developed countries. The demographic transition of Sri Lanka is a result of a sharp decline in the fertility rate and an increase in life expectancy driven by several decades of investments made on welfare, education and health.
If elderly is defined as age 65 year and above, Sri Lanka has 9.30 percent of the total population at the age of 65 and above, while this figure surpasses most of the South Asian regional peers. Further, 65+-year portion was only 4.3 percent in 1981 and by 2012 it has increased to 7.9 percent. Interestingly by 2041, it is expected to increase up to 17.1 percent of the total population.
Consequent to the changes in demographic components, the shape of the population pyramid of Sri Lanka is estimated to change significantly. As indicated by Graph 11, in 2015, out of the population of 20.9 million, 8 percent was estimated to be over 65 years and above and this figure is anticipated to increase up to 18 percent by 2041.
The ageing population is required to be more health conscious and is engaged in more on health check-ups on a regular basis as a preventive action, implying a growing demand for healthcare. Accordingly, private health providers in the country are expected to benefit from this demographic trend as a result of the expected increase in demand for inpatient and outpatient care services as well as laboratory and other support services.

Rise in NCDs
NCDs have shown an increasing trend while it was found that 71 percent of all annual deaths are attributed to chronic NCDs led by cardiovascular diseases (heart), diabetes, cancer and chronic respiratory diseases.
Rise in NCDs can be attributed to two reasons: particularly due to the ageing population of the country and the dietary and lifestyle changes in line with the increase in income of people. (At lower-income levels, health spending is dominated by communicable disease and as living standards improve, NCDs account for a larger share of health expenditures).
This will provide an opportunity for health providers since treatment of NCDs involve long hospital stay and advance medical treatments with higher prices and better margins.

Summary
We expect the above industry drivers to create a strong demand for private healthcare services in Sri Lanka. Accordingly, we project private health expenditure to record 11 percent average annual growth for the next three years and thus private service providers to benefit with strong financial performance.
However, the impending industry challenges such as imposing minimum price regulation, corporate tax increases and VAT charge of 15 percent (on consulting fee for medical specialists and hospital room charges) will hinder the growth prospects of the industry in the short run. But the healthcare industry being a defensive industry, the private healthcare sector will see an upside in the long run.
(Hiruni Perera is a research analyst at LOLC Securities Limited)