---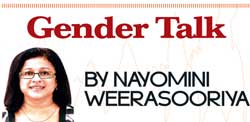 And so women – according to feminists – everywhere, marched in defiance of whatever the politically correct agenda said was not fashionable. There was a lot of rage too there; of course, as always the genuine, dyed-in-the-wool activists protesting everything on earth, were there but so were those looking to latch on to any cause. But more importantly, what emerged was in the aftermath of the litter strewn (yes, they left all their banners for the cleaning crews – not very politically correct but who cares when the cameras are no longer on you) screaming frenzy? Nothing.
Just like most of the causes backed by Hollywood celebrities who need these causes to add the zing to their careers, it fizzled out. Donald Trump was still the President of the USA. Nothing had really changed. His election was one world-changing event that the Hollywood pack did not really perceive; living as they do in their own little cocoons with only Twitter as their window on the world, they did not know that nobody really cared for their political opinions. People do not watch movies for political opinions; they watch them for entertainment.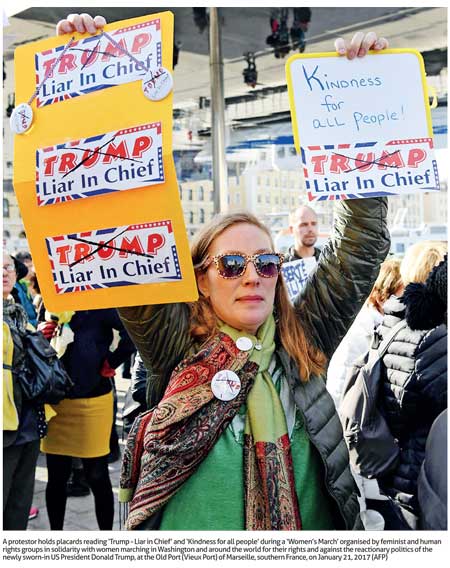 Back to the march. Yes, we understand that disadvantages – against women – do take place. But a march in which Madonna screams the White House must be burnt down – trying desperately to revive her ageing career with attention of the wrong kind – will do little to bring change. Instead, it was giving all the wrong signals. Among which was teaching young men of this generation that the politically correct, fashionable way is to be cowed down in face of militant feminism. Which to me, was frightening.
What were we teaching our sons? That it is ok to let a screaming woman in a frenzy have her way? Just as much as it is wrong for a screaming man in a frenzy to be permitted to have his way. Yes, women have marched down generations to get their rights but they were not the circus that this march had become. Yes, rights have been achieved through protests throughout history. But they were not driven by militant agendas. One woman went as far as screaming that all male babies should be killed. The cause seemed to despise everything and cause nothing but hatred and mayhem just because one could.
Granted, women have many mountains still to climb, some of which will always be challenging. For an example, managing the roles of motherhood, family and career will always be one such challenge. As much as women would like to embrace one in favour of the other, that's not how it works.
We, as women, are expected to perform some roles in a balanced way; no feminist agenda will change that. If women think they can do it some other way, not have kids, not run a home but live for themselves alone, they may never tell you but down the line, will live to regret their choices.

Real issues unaddressed
The fashionable factor aside, the marches themselves did little to highlight women's issues – real issues. There are millions of women struggling to feed their families, being trafficked for prostitution and slavery, women headed households are trying to make ends meet.
Girl children are being persecuted for being girls and child brides are being given away in some of the world's most underdeveloped regions. Sadly, the march did not figure any one of those burning issues. Unfortunately, they are not fashionable issues. Not the kind of issues Hollywood celebs would endorse and would lend their support to. Such issues do not grab the attention of mainstream media either. So the women who marched did it in a way a petulant child who did not get his or her way, did.
Let's face it; women will continue to face injustice and inequality. Comes with the territory; we do not live in a fair world. Men too face inequality and injustice. Today, it is not just a gender thing. We have to fight for our rights yes but not with high-profile marches and fashionable slogans – but with change that we ourselves can bring about.
Every time we encourage another woman to stand on her own two feet, we initiate change. Every time we support a woman in her endeavours, whether in running a business, a career or making a choice, we bring about change.
That's the kind of change that will change gender equations towards greater empowerment for women everywhere. Today, you and I can choose to initiate change in the environment around us. We do not have to look to women going on silly marches to be motivated to do something.
It can start with you and me.
Next time you go shopping, choose to buy what a single woman down the road or at the pola will sell. Choose to buy some of your produce from women who market them. You will find plenty at a Sunday pola. If a woman you know is struggling to make ends meet, look at ways of supporting her – not with fish but with a fishing rod. There are a million little ways in which we can support women who really need the support.
That's how the world can be changed. One step at a time.
(Nayomini Weerasooriya, a senior journalist, writer and a PR professional, can be contacted at nayominiweerasooriya@gmail.com)