---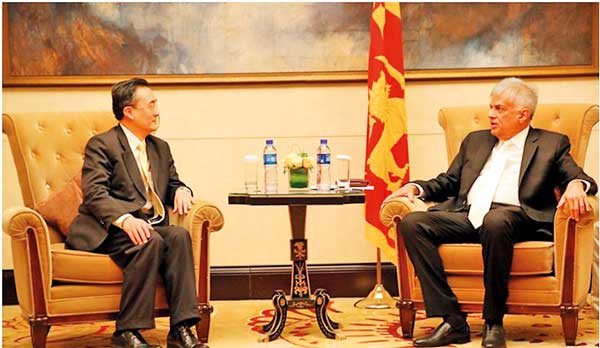 Prime Minister Ranil Wickremesinghe met with Huawei Vice President Yao Weimin in Beijing during his recent visit to China.
Wickremesinghe said, "ICT and digitalization are the first priorities of the government's economic development plan. We know Huawei is a leading global ICT company; we are happy to have Huawei helping build the ICT capacity in Sri Lanka and we encourage Huawei to increase investment in Sri Lanka in the future."
"Huawei is glad to bring its global experience in ICT innovation and its leading ICT technologies and solutions to Sri Lanka," Weiming said.
"Huawei will help develop the local ICT workforce and accelerate the mobile broadband penetration and development. In this way, we will help ensure high-quality, accessible communication services for all Sri Lankan citizens, especially those in the rural and remote areas," he added.
Huawei has been in business in Sri Lanka since 2005. As a leading provider of telecommunication equipment, Huawei has built partnerships with the local carriers to serve the 20 million local people.