---
Sri Lanka's tea production for the month of June grew by 13.4 percent Year-on-Year (YoY) to 22.9 MnKgs,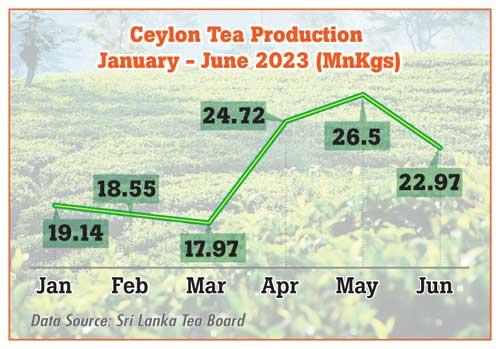 contributing to the marginal improvement in the overall output of the first half of 2023, the data released by Sri Lanka Tea Board showed.

However, when compared with the month of May, the output was down by 13.6 percent. In May, tea output reached
26.5 Mnkgs.
Last year, the downward trend in production commenced in June and continued through July 19.8 Mnkg, August 18.2 Mnkg and September 20.9 Mnkg, analysis by Asia Siyaka showed.

The cumulative crop output for the first six months of the year totalled 134.4 Mngs, which is a 0.8 percent increase when compared with the same period in 2022. Last year, for the second half, Sri Lanka's tea production totalled 132.9 MnKgs. Meanwhile, in terms of tea exports, both volume and US dollar revenue, have recoded declines.
January to June tea exports quantities declined by 10 percent when compared to 2022. The rupee revenue however increased by 28 percent due to the depreciation of the currency against the US dollar.