---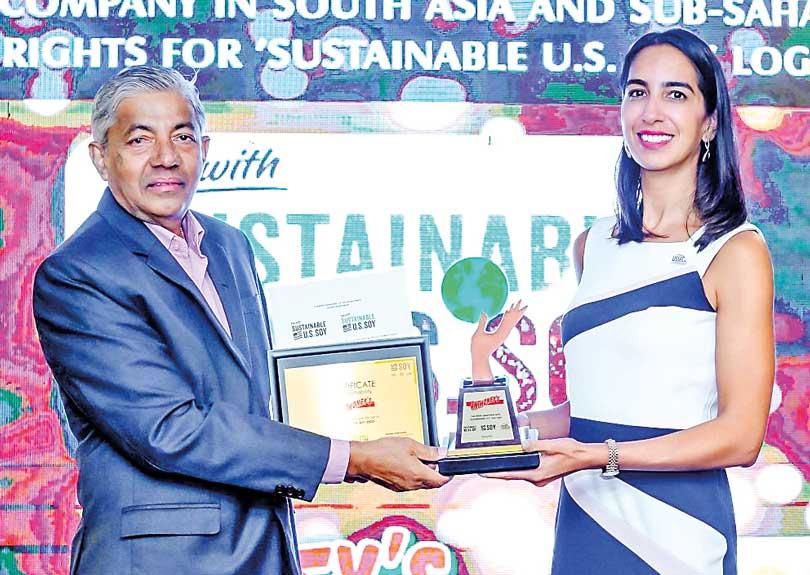 From left: New Anthoney's Group Chairman Emil Stanley receives award from Head of U.S. Soy Sustainability and Marketing South Asia and Sub-Saharan Africa Deeba Giannoulis
---
New Anthoney's Group, one of Sri Lanka's leading poultry producers, in its continued quest to make strides towards sustainability and operate in a nature-positive way, was recently awarded the rights to use the prestigious Sustainable U.S. Soy logo on its packaging, making it the first in the South Asian and Sub-Saharan Africa region.
In marking this significant milestone, an event was held at Waters Edge on July 5. The trademarked Sustainable U.S. Soy logo is offered to producers that use sustainable U.S. Soy in their products and New Anthoney's Group joins the handful of only 30 companies who use the logo on over 550 products worldwide. New Anthoney's Group is also the newest supporter of the Right To Protein campaign that works to raise awareness about the global burden of protein deficiency.
This comes after having successfully adhered and verified through the U.S. Soy Sustainability Assurance Protocol (SSAP), which hinges on four directives, with control measures and regulations, covering biodiversity and high carbon stock, production practices, public and labour health and welfare and continuous improvement.
This initiative, by the U.S. Soybean Export Council (USSEC), helps international food and feed companies source sustainable soy for their ingredient and product portfolios.
New Anthoney's Group CEO Neil Suraweera, in his welcome speech, said, "We are extremely delighted to be bestowed with the rights to use the Sustainable U.S. Soy logo in our product packaging and there is more to this than a logo; it is a holistic commitment towards sourcing sustainable ingredients. We strongly believe that sustainability starts on the farm just like they do and this marks an important milestone in our journey on sustainability."
Head of U.S. Soy Sustainability and Marketing South Asia and Sub-Saharan Africa Deeba Giannoulis graced the occasion and shared an insightful presentation on U.S. Soy and how it sets apart as a leader in the global effort to produce sustainable and reliable sources of food. USSEC Regional Head of Animal Utilisation South Asia and Sub-Saharan Africa Dr. Susil Silva also shared a speech.
New Anthoney's Group Chairman Emil Stanley shed light as to how far the company has come, the ambitious plans for the future and the various sentiments and values in making Sri Lanka a healthier nation. The event concluded with its Executive Director Eranga Kurukulaarachchi delivering the vote of thanks.