---

A group photo of participants
---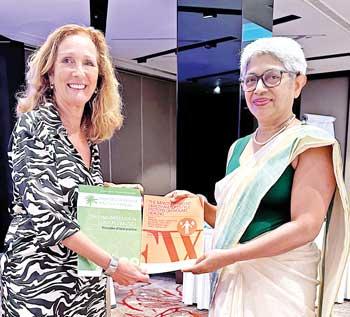 B Braun Sri Lanka and the Maldives Managing Director Dr. Nathalie de Dieuleveult presents a token of appreciation to Consultant Clinical Microbiologist and Sri Lanka College of Microbiologists President Dr. Rohini Wadanamby
B Braun Lanka, a well-known German multinational and leading medical technology company, with a significant presence in Sri Lanka's medical industry, launched a Wound Management roadshow for over 200 medical practitioners across Sri Lanka.
The aim of the roadshow was to create awareness, provide practical training and share best practices to improve wound healing outcomes in Sri Lanka.
With the rising incidence of diabetes and the aging population in the country, this event was organised with this objective of creating awareness amongst doctors and nurses on effective treatments for chronic, often difficult to heal wounds stemming from diabetic complications.
Other objectives included the holistic understanding of wound management principles and practical techniques to optimise patient care, combined with new technologies and solutions to prevent and manage wounds effectively. Yet another key aim of the programme was the mitigation of the overuse of prescribed antibiotics and highlighting a more restrained approach to both antibiotics and antiseptics.
The roadshow on Wound Management spanned across Colombo, Galle and Kandy. The workshops were led by esteemed regional expert Sumita Poopalalingam and local experts, Vascular Surgeons Prof. Mandika Wijeyaratne, Dr. Thushan D. Gooneratne, Dr. Ranjuka Ubayasiri, Dr. B Saseekaran and Microbiologists Dr. Rohini Wadanamby, Dr. Madumani Abeyawardena and Dr. Bhagya Piyasiri.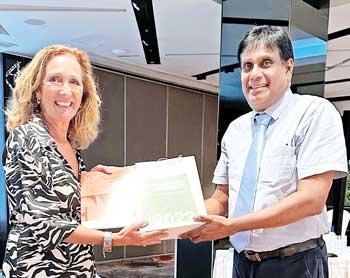 B Braun Sri Lanka and the Maldives Managing Director Dr. Nathalie de Dieuleveult presents a token of appreciation to Consultant Vascular and Transplant Surgeon and Sri Lankan Society for Vascular Surgery President Prof. Mandika Wijeyaratne
The roadshow on Wound Management proved to be an instrumental platform for addressing the existing wound care challenges in Sri Lanka. It was carried out in collaboration with the Society of Vascular Surgery, The College of Microbiology and other local healthcare institutions, exemplifying the power of interdisciplinary cooperation in driving positive change.