---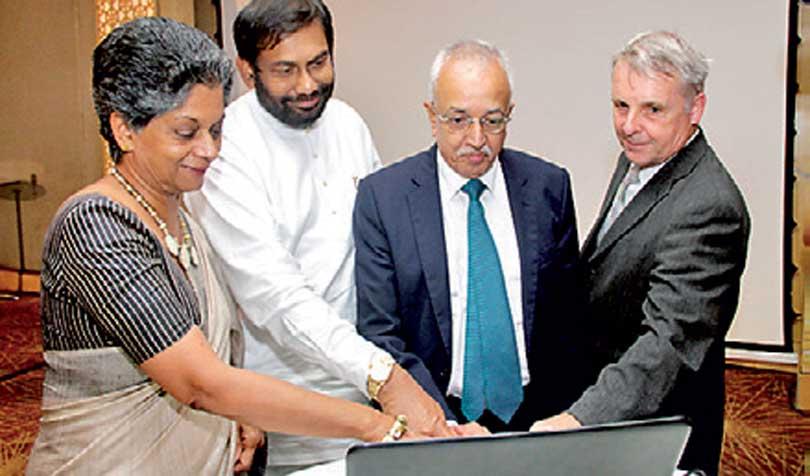 From left: Export Development Board Chairperson Indira Malwatte, Social Empowerment Minister Daya Gamage, Development Strategies and International Trade Minister Malik Samarawickrama and German Ambassador Jörn Rohde officially launch 'Ceylon Spices' trademark
Pic by Pradeep Dilrukshana
By Shabiya Ali Ahlam
Sri Lanka's spices industry received the much-awaited and required boost yesterday with the Export Development Board (EDB) launching the country-of-origin trade mark, 'Ceylon Spices'.

The trademark is followed by the tagline 'Born in Sri Lanka' and is represented with a brand logo of a lion placed inside the national flag.
Aimed at supporting growers, processors and manufacturers of the spices sector, the Ceylon Spices trade mark will provide fresh impetus by assisting the consumers across the world identify the products as Sri Lanka made, affirming Sri Lankan origin.

Internationally, the country-of-origin trademark will be launched in Cologne, Germany, at the world's largest food and beverage exhibition, 'ANUGA', on October 6, 2019.
The Ceylon Spices master brand, owned by the EDB, is conceptualised to have a distinct position, personality, promise, visual and verbal system and all qualifying spices will have the same name, colour and 'Born in Sri Lanka' tagline.

"One of the National Export Strategy (NES) priority sectors is Spices and Concentrates and one of the strategic objectives identified is to 'become globally recognised as an innovative player in the value-added spices market.

Branding of spices is a 'priority action item' in the NES to achieve a set export target of US $ 880 million from the 'Spices and Concentrates' sector by 2022," said Development Strategies and International Trade Minister Malik Samarawickrama, while addressing the launch event held in Colombo, last evening.

Meanwhile, EDB Chairperson Indira Malwatte noted that the trademark is administered by the EDB and is part of a wider strategy of standardisation for 'Sri Lanka' made products that raise the profile of the same in international markets.

The brand architecture was developed by Michel Nugawela, hired by the EDB as a brand consultant. He shared that the strategy is to express the relationship between Ceylon Cinnamon, Ceylon Pepper and other spices within the portfolio, as well as the visual identity or face of the brand that represents larger ideas captured in the brand definition model.
Walking the audience through the new Ceylon Spices concept, Nugawela said that just as Sri Lanka lends its personality to indigenous brands, successful brands also influence the perception of their homeland.

"The more brands that consumers know are Sri Lankan made, the more likely they are to prefer Sri Lanka as a county-of-origin. This multiplication factor is essential if Sri Lanka origin claims are to be represented by a single standard of quality and unity for Sri Lankan businesses in the global market," he shared.