---
Singer Sri Lanka PLC recorded robust sales during the three months ended in September (2Q21), with consumers buying more consumer electronics, household furniture, smartphones and laptops, as the COVID-19 pandemic demanded them to work from homes.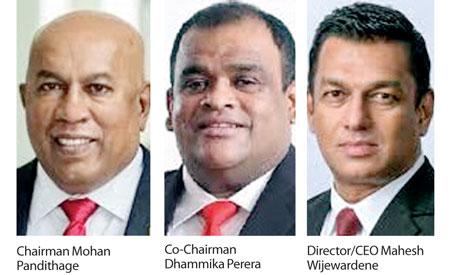 Sri Lanka's largest consumer durables retailer recorded revenues of Rs.16.7 billion for the three months under review, up from Rs.13.2 billion, which is an increase of 26 percent from the comparable quarter, last year. In the previous quarter (1Q21), when the activities were heavily affected by the lockdowns, the Singer Sri Lanka group reported revenues of Rs.14 billion, up one percent from a year ago.

Sales in consumer electronics in the September quarter reached last year's levels of Rs.1.6 billion, indicating the consumers were waiting to grab their favourite television set, refrigerator or the stereo sound systems, until they were allowed to go out for shopping.

Among the notable areas where the sales outperformed the year earlier levels were furniture, home appliances and IT products, as stay-at-home consumers engaged in home improvements while constructions picked up fast after the end of the lockdowns in May.
Meanwhile, many office-based staff shopped for furniture to set up their home offices and bought computers and laptops to better equip themselves to work from home.

This is another reason why the second wave of restrictions did little to hamper the services-related economic activities, although the Western province was closed for little more than a week, as many had the tools required to work remotely, albeit with certain limitations.

Hence, the pandemic generated sales for the company, if otherwise would not have triggered in such a quick pace.

Fitch Ratings cut Singer's rating to BBB+, from A+, with a negative outlook in April and projected the sales to plunge 60 percent in the three months to June and said the company's sales wouldn't return to pre-pandemic levels until the fiscal year beginning from April 2021.

Singer Sri Lanka, the pioneer in the household sewing machines in Sri Lanka, increased sales in this category by nearly 50 percent to Rs.740.3 million for the quarter. Meanwhile, the group's financial services subsidiary Singer Finance Lanka PLC reported a profit before tax of Rs.395.1 million, lower than last year's, on a net revenue of Rs.1.88 billion.

The group reported earnings of Rs.488.3 million or Rs.1.30 a share for the July- September quarter, compared to a loss of Rs.52.1 million in the comparable period, last year. The group's net finance cost fell sharply to Rs.231.2 million, from Rs.801.7 million in the year earlier period, as it settled about Rs.7.0 billion in debt while benefiting from easing market interest rates.

By September 30, 2020, businessman Dhammika Perera-controlled Hayleys group held a 90.42 stake in Singer while Perera personally held a 1.85 percent stake, separately.