---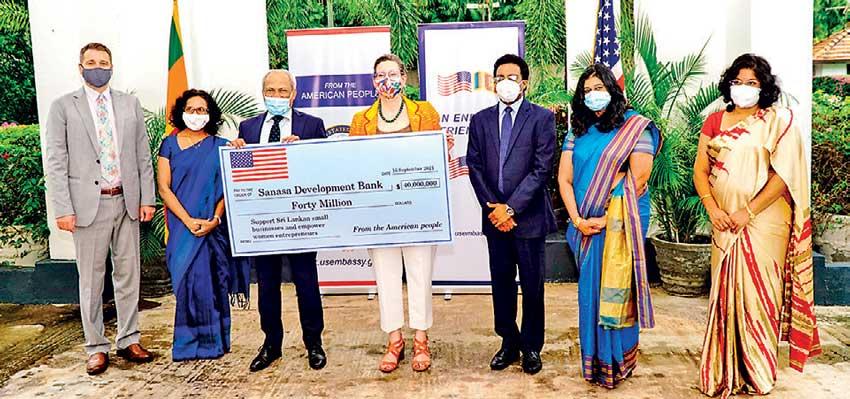 SDB bank CEO Thilak Piyadigama, US Ambassador to Sri Lanka Alaina B. Teplitz and SDB bank and US Embassy Sri Lanka officials
Extending a helping hand during one of the most crucial times for the local economy, the United States International Development Finance Corporation (DFC) recently finalised the official handing over of a US $ 40 million (Rs.7.5 billion) term loan facility to SDB bank to support small and medium enterprises (SMEs), particularly female-owned ventures.

DFC is known for providing access to finance to over 10 million SME and microfinance borrowers in low-income and lower-middle-income countries worldwide and initiating over 800 projects around the world. Offering innovative financial solutions through debt financing, political risk insurance, equity investment and private equity investment funds, the corporation is focused on mobilising capital to solve critical development challenges.

Having approved the loan facility to SDB bank in January 2021, the DFC recently released funds to the local bank, as part of its global initiative to finance advance development in emerging markets in Africa, the Middle East, Eastern Europe, Indo-pacific and
Latin America.

"The DFC gives this loan as part of the US policy to provide financial inclusivity to all, especially to reduce gender inequality and uplift female enterprises," shared US Ambassador to Sri Lanka and the Maldives
Alaina B. Teplitz.

She noted, "The Sri Lankan economy is at a crucial juncture and requires long-term, stable funding to recover from the consequences of COVID-19. The US is keen to boost SMEs in Sri Lanka, mainly those that are women-driven, given the adverse impact felt by this segment, due
to the pandemic."

Forty percent of the loan facility will be used exclusively for women enterprises, while 60 percent will be allocated to SMEs in general. The facility also includes a series of value additions, including a capacity development programme to provide SDB bank's employees access to modern technology. This digital empowerment will result in more value passed on to customers to help them grow and build enterprises with the help of technological advancements.
The impact of the loan will spread to needy communities across the island and help SDB bank provide a gamut of financial opportunities that create jobs, uplift social well-being and help Sri Lankans to enjoy a better quality of life. Alpen Capital played the role of financial advisor to obtain the loan.

The DFC loan arrives at an imperative time for SDB bank and Sri Lanka. The bank is confident that the facility will strengthen its continuous drive to support SMEs and women entrepreneurs with high-quality innovative and competitive financial products, using advanced digital technology and the bank's steadfast dedication, given its position as one of the most responsible financial institutions in Sri Lanka.