---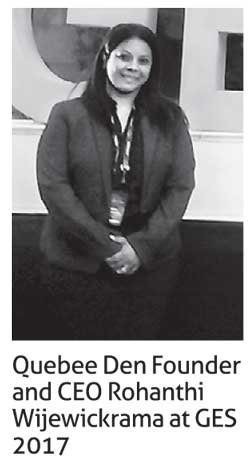 Young entrepreneur Rohanthi Wijewickrama, the Founder/CEO of Sri Lankan children's products company Quebee Den (Bellybees), was invited to participate in the eighth annual Global Entrepreneurship Summit, held by the USA and India, recently.

Recommended and nominated by the Women's Chamber of Industry and Commerce Sri Lanka (WCICSL) and selected by the US Department of State, Wijewickrama attended the highly prestigious, invitation-only 2017 Global Entrepreneurship Summit (GES), held in Hyderabad, India with the participation of more than 1,800 entrepreneurs and investors from 148 countries.

Advisor to USA President Ivanka Trump headed the United States delegation to the summit.

Through networking, mentoring and workshops, the GES empowers entrepreneurs to pitch their ideas, build partnerships, secure funding and create innovative goods and services that will transform societies.

Quebee Den is a local consumer goods company with an emphasis on safe, healthy and convenient products for one's home. Its mission is to reinvent the future with healthy and safe products that will uplift the economic, social and environmental sustainability of the industry, community and the world.

The company has built a powerful portfolio of niche brands like 'Bellybees', which specializes in food and beverages with no preservatives and 'Qbee', a dedicated household products brand for non-food items. Catering to all age groups, Quebee Den develops products dedicated to baby, toddler, kids and the entire family, becoming one of Sri Lanka's top self-made brands to cater to the entire family, making it available islandwide in supermarkets and grocery stores.

Quebee Den has won several national awards including JCI's Top Outstanding Young Persons of Sri Lanka Award in 2016, as well as the Western Province's Best Entrepreneur - Industrial and Manufacturing Sector in 2017 and the Best Entrepreneur Award for 2016, both awarded by the National Chamber of Commerce of Sri Lanka.

Quebee Den has also been recognized as the runner-up, and one of the 'Top Fundable Companies', at Venture Engine 2016 and with a Women Entrepreneur Award and Best Women CEO Award in 2015.

Commenting on the success of Quebee Den, Wijewickrama noted that her company's focus is on producing entirely natural and locally-sourced products, which enables her to offer sustainable products that are free of toxic chemicals. Her commitment to a healthy world also emphasizes on reaching out to underprivileged communities to help rebuild the next generation with healthy products.

Also important, 95 percent of her workers are women; ingredients are purchased, including vegetables and fruits mainly from women islandwide. It is additionally important for her to help working mothers by offering them with organic and sustainable alternatives that are healthy and safe for children as well as financial freedom giving them an opportunity to pursue their own dreams.

Elaborating further, Wijewickrama added, "We are not only about putting a product on the shelf. We also want to ensure the livelihood of the next generation, our kids' generation, is preserved. That is truly what Quebee Den is all about."