---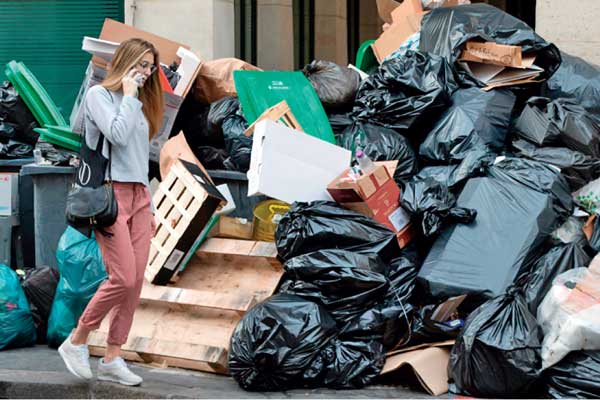 A woman walks past a pile of un-collected rubbish in Paris yesterday
AFP - Overflowing rubbish bins, transport strikes, violent political protests, and floods -- the image of France as Euro 2016 kicked off yesterday is worrying tourist chiefs.

With the world's eyes on France, tourism officials fear the country's current difficulties could tarnish its reputation for years to come.

As hundreds of thousands of fans began arriving for the tournament, a train strike entered its ninth day and bags of household rubbish piled up in the streets of Paris as union blockades of incineration plants halted collections.

All this on top of massive floods and an ongoing row over labour law reforms that has seen police and protesters clash in the streets.

"It is just catastrophic. The international media are showing Paris in flames and France in permanent social conflict. And the foreigners who see the bins outside the Cafe de Flore will think the whole country's like this!" Jean-Pierre Mas, head of Entreprises du Voyage, the national trade body for travel agents, told AFP.

He said the "summer season is already ruined because we're bang in the period when people book their summer holidays and they won't hesitate to go somewhere else".
Frederic Valletoux, the head of the tourism commission for the Paris region, echoed his pessimism, saying they had "put back any hope of seeing numbers bounce back before September".