---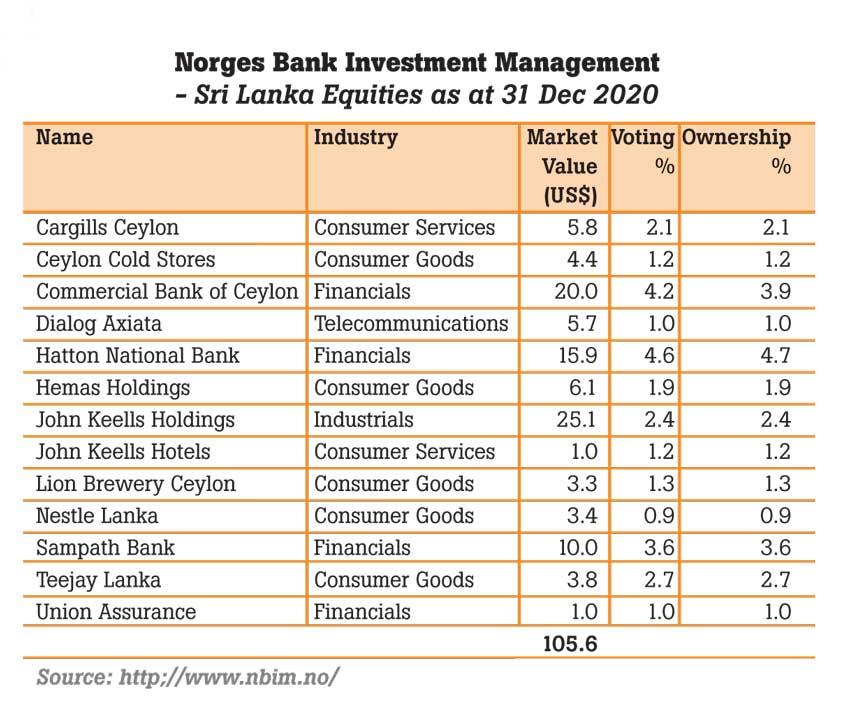 Equity portfolio declines to US$ 105.6 mn at end-2020 from US$ 114.3 mn at end-2019
Trims its investments to 13 listed companies from 20 in 2019
Norges Bank Investment Management, which manages Norway's US$ 1.3 trillion Government Pension Fund Global, saw a reduction in its equity investments in Sri Lanka for the first-time since the fund's entry into the country in 2015.

According to the official website of Norges Bank Investment Management, the fund's equity portfolio in Sri Lanka declined to US$ 105.6 million at the end of 2020 from US$ 114.3 million reported at the end of 2019, ending the four-year growth streak.

During last year, the fund had divested its entire holdings in DFCC Bank, Central Finance Co PLC, Distilleries Co of Sri Lanka PLC, Melstacorp PLC, Nations Trust Bank PLC, People's Leasing & Finance PLC, Piramal Glass Ceylon PLC and in Tokyo Cement Co Lanka PLC. thereby limiting its investments in Sri Lanka to 13 listed-firms from 20-listed firms one year ago.

However, the fund added Ceylon Cold Stores PLC to its investment portfolio by purchasing 1.22 percent stake in the company during the year.
Meanwhile, continuing with the preceding year's trend, the fund had increased its stake in John Keells Holdings PLC, its single largest investment in Sri Lanka, to 2.36 percent in the year, from 2.15 percent at end-2019, and was valued at US$ 25.14 million.

The fund also increased its stake in Commercial Bank, the second largest investment in the country, to 3.92 percent in 2020 compared 2.99 percent stake at the end of 2019.

Similarly, the fund's stakes in Hatton National Bank and Sampath Bank had also increased to 4.65 percent and 3.58 percent respectively during 2020.

However, the fund had reduced its stakes in Hemas Holdings PLC , Lion Brewery Ceylon PLC and Dialog Axiata PLC , while marginal reductions were recorded in its shareholdings in Cargills Ceylon PLC and Teejay Lanka PLC.
Emerging markets and frontier markets accounted for 12 percent of the fund's equity investments as at-end 2020. However, investments in equities in frontier markets declined to 13 billion kroner at end-2020, down from 13.3 billion kroner a year ago.

Sri Lanka was the ninth largest frontier market equity portfolio of the fund. Norges Bank entered Sri Lanka investing US$ 31 million in Lankan stocks in 2015.