---
Says govt. must choose least painful path for people
Insists on greater independence for CB to conduct its core functions
Urges govt. to seek IMF programme with debt restructuring programme embedded
While stressing on the need for greater independence of the Central Bank (CB) to conduct its core functions, instead of becoming the banker for the government, former CB Governor Dr. Indrajit Coomaraswamy urged the government to choose the least painful path, with a medium-term approach, to emerge out of the current external sector crisis, as there is no painless path.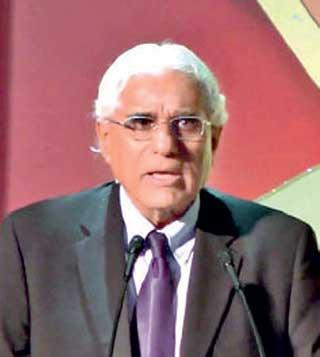 Speaking at Sri Lanka Economic Summit 2021, held in Colombo yesterday, Dr. Coomaraswamy outlined that the external sector crisis is the most immediate crisis that needs to be addressed, as the country's gross official foreign reserves have plummeted to a historical low of US $ 1.5 billion while the estimated net drain on foreign exchange reserves estimated to be at US $ 7 billion over the next 12 months.

"This external financing gap needs to be filled. The CB in its roadmap set out a number of sources of financing that could be tapped to fill this external financing gap. And if we are able to materialise sufficient financing through these channels, that's fine.

However, not only do we need to mobilise sufficient external financing to fill the gap but also we have an onerous debt service of US $ 4 billion plus over the next four or five years. So, we need to have a solution, a medium-term solution that addresses this external financing challenge. There are no painless options. We need to work out the path, which gives us the least pain," he elaborated.

However, if the CB's six-month roadmap fails to meet its funding targets, Dr. Coomaraswamy stressed that an International Monetary Fund (IMF) programme, which is embedded with a debt restructuring exercise, is to be the country's only solution to come out of the current crisis.

"An IMF programme will provide balance of payment (BoP) support. It will also provide direct budgetary support from the World Bank, IDB, ADB and one or two bilateral donors. In addition, the IMF certification make us more creditworthy; both the public and private sector would be able to tap into international markets easily," he noted.
Meanwhile, Dr. Coomaraswamy pointed out that the current monetary policy conduct of the CB in prioritising fiscal operations has led to additional inflationary pressure, rising interest rates while challenging the sustainability of the BoP. "The primary cause for this has been the government's budgetary operations. The negative impact of the government's budgetary operations has been amplified by fiscal forbearance in the conduct of monetary policy by the CB. This toxic combination has led to elevated inflation, high interest rates and unsustainable BoP," he added.
Hence, he urged the government to provide sufficient autonomy for the CB to conduct its monetary policy, prioritising its core objectives as stipulated in the Monetary Law Act. "The CB should have sufficient autonomy to conduct a data-driven, proactive monetary policy that takes into account the transmission lags and anchors inflation and inflation expectations. The mandate of the CB is price and economic stability, which is laid out in its foundational law; it should have precedence over agency function of raising money for the government," he asserted. (NF)