---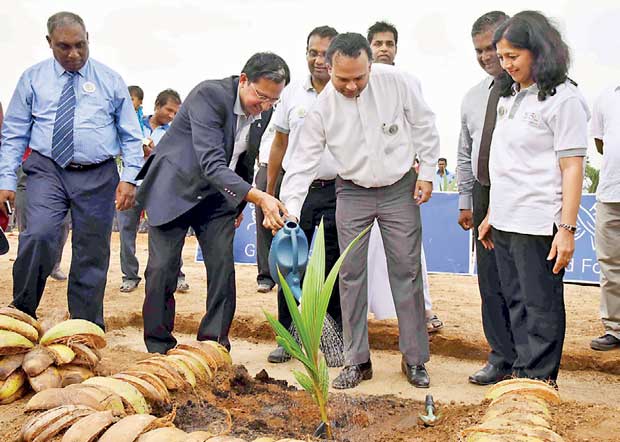 Nestle Lanka Chairman Suresh Narayan and Plantation industries Minister Navin Dissanayake watering a plantlet at the model farm ceremony. Also seen in the picture is Nestle Lanka Managing Director Shivani Hedge (right). Pic by Kithsiri de Mel
By Zahara Zuhair
Directly engaging with the coconut farmers for the first time, Nestle Lanka donated 5,000 hybrid plantlets to 1,000 coconut farming families and initiated the development of a model coconut farm in Nikaweratiya recently. They will be initiating a similar project in Kebithigollewa as well donating 10,000 plantlets altogether across
150 acres.
Speaking at the model plant ceremony, Plantation industries Minister Navin Dissanayake said that their aim is to double the coconut production up to 5,000 million in next 5-6 years which is 3,000 million
at present.
He said that such private investments are needed to develop coconut industry, as the government cannot do it alone. He requested Nestle to bring in investments to coconut water as well. Nestle Lanka Chairman Suresh Narayan said, Nestle a long lived company globally for over 150 years and in Sri Lanka for 110 years, currently is Sri Lanka's largest private sector collector of fresh milk.
He said they offer a range of products with local fresh milk providing almost 20,000 dairy farmer families a secured livelihood.
He said Nestle not only plays a role in business but also plays a role in social and economy development of the country.
Nestle Lanka Managing Director Shivani Hedge said that Nestle's contribution to the local coconut industry in 2015, as payment for procuring fresh coconuts for its products was Rs. 2.6 billion.
She also said that Nestle Lanka is the pioneer to enter coconut milk powder market which started exporting to Middle Eastern region back in 1986.
Today, she said their brand Maggi coconut powder is directly exported to over 50 countries and they purchase coconuts indirectly from 5,000 rural families through their suppliers. It was noted that they will be distributing plantlets to coconut farmers living outside the coconut triangle as well.
The two model farms aim to provide an ideal coconut farm, designed to benchmark high practices and quality coconut
farming standards.
The coconut development programme will include technical assistance by the Coconut Cultivation Board including soil tests, provision of manure and other pre and post planting assistance.