---
National Conference on Green Practices 2016, the first-ever to be organised by a Staff Development Centre of a state university, has received tremendous response from academics and other stakeholders. The conference is the first-of-its-kind to be organised and is expected to bring together researchers and policymakers in the field to share their experience and expertise.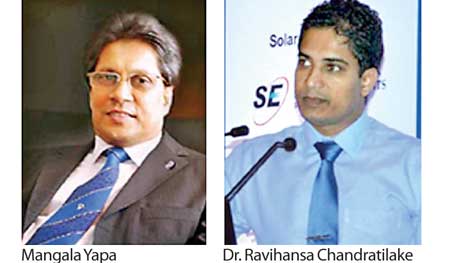 The theme of the conference is 'Institutionalizing green practices: green for growth'.
The conference will be held today at Water's Edge, Battaramulla and will feature a keynote speech, a plenary speech, symposia, paper presentations and a photographic exhibition.
A poster competition for schools in the Gampaha District and non-academic staff members of the university is organised parallel to the conference. The school competition was jointly organised with the Environment committee of Sri Lanka Association for the Advancement of Science (SLAAS) and Lions Club Wattala.
The Central Environmental Authority, Hayleys group, Nippon Paints and Holcim are the co-sponsors of the conference. The media sponsors are Mauwbima and Ceylon Today newspapers.
The keynote speaker will be Mangala Yapa. Yapa is a marine engineer/naval architect and a Chartered Engineer by profession and has served in a number of national, regional and international committees related to the maritime industry. He holds a Master of Science degree in Engineering (Hons.) from the Astrakhan Technical University of Russia and a MBA from the Postgraduate Institute of Management (PIM), Sri Lanka.
Yapa is Managing Director of the Agency for Development, Ministry of Development Strategies and International Trade and prior to that he was Secretary General/Chief Executive officer of the Ceylon Chamber of Commerce and Managing Director/Chief Executive Officer of Colombo Dockyard PLC.
The plenary speaker will be Dr. Ravihansa Chandratilake. Dr. Chandratilake is a charted architect who won many local and overseas awards for his research publications on sustainability and green construction. He is a prominent researcher, a practitioner and a consultant in green construction in Sri Lanka.
The guest speakers include: Central Environment Authority Chairman Professor Lal M. Dharmasiri on 'Green concept: Polices and expectation', University Grant Commission Chairman Professor P.S.M. Gunaratne on 'Green concept, today and tomorrow: academic point of view', University of Moratuwa Vice Chancellor Professor Ananda Jayawardane on 'Advancement of technology; is it a threat or opportunity for green practices; institutionalizing green practices in universities', Kelani Valley Plantations PLC (Hayley's Group) MD Roshan Rajadurai on 'Green practices in plantations', Browns Hospital CEO Dr. Iravian Thiyagarajah on 'Challenges of implementing green practices in Hospitals' and Jetwing Hotels Ltd Director Jude Kasthuriarachchi 'Sustainability: From vision to action'.