---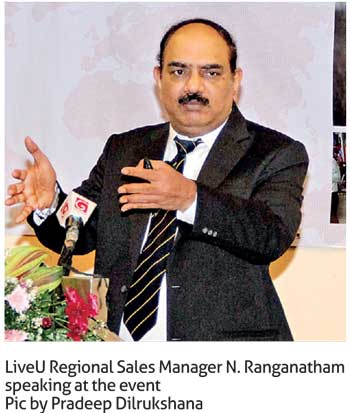 By Harshana Sellahewa
LiveU, an America-based company that provides portable live video acquisition solutions recently hosted a live demo and knowledge sharing experience at the Galadari Hotel, together with Pan Audio (Pvt.) Ltd, the authorised distributor of LiveU products in Sri Lanka, to promote its flagship broadcasting products to the Lankan market.

Having commenced operations in 2006, the company is headquartered in New Jersey, USA, and in Israel, and is headed by CEO Samuel Wasserman.

LiveU is driving the live video revolution, providing live video streaming for TV, mobile, online and social media. LiveU allows the audience to be part of one's story with high quality and flawless live video transmitted from anywhere in the world, through the use of patented bonding and video transport technology.

LiveU creates a consistent bandwidth and a reliable connection so that one could 'acquire, manage, and distribute' high quality remote live broadcasts over IP (Internet Protocol).

Speaking at the event, LiveU Regional Sales Manager N. Ranganatham said, "We started using multiple Sims on multiple IP streams to transport video from wherever the action is to the studios without using the so called conventional satellite vans. That's how this company started, and now it has become a global major in this business."
Ranganatham further stated that there are three aspects; the acquiring of the video, the management of the units and the distribution of the video, which constitute to what we call live video streaming.

"We are present at every aspect of this business, and we have more than 6,500 units globally and more than about 3,000 customers with around 200 Terabytes of distribution which is happening," he added.

LiveU's broad portfolio of products sets the industry standard for live video production. From backpacks to smartphones, and satellite/cellular hybrid to external antenna solutions, LiveU offers a complete range of devices for live video coverage anytime, anywhere.

Present in over 80 countries, LiveU's technology is the solution of choice for global broadcasters, online media, news agencies and social media.