---
Plantation Industries Minister Navin Dissanayake has called for a joint marketing strategy to promote Sri Lanka or the Ceylon brand to market the country's exports and tourism products, pointing out that the individual marketing campaigns are less effective to compete with the top
global brands.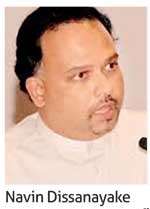 "We are not properly marketing our country. I believe that there has to be a very innovative marketing campaign where all the state agencies come together and use their talent and resources to market Sri Lanka or the Ceylon brand," Dissanayake told a recent forum held in Colombo.
He pointed out that the individual marketing strategies in place to promote Sri Lanka tourism, cinnamon, gem and jewelleries, tea and other exports have proved more or less ineffective.

Both tea and tourism industries are expected to soon embark upon major promotional campaigns spending millions of dollars.