---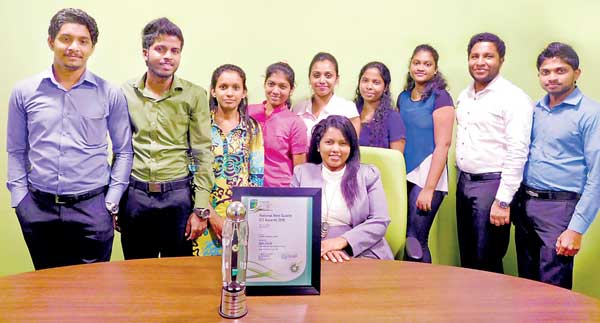 In the recently held NBQSA 2016 awards, GroceryPal.lk won the Silver award under the e-inclusion and e-commerce category, in recognition of the project's features and facilities geared towards creating greater inclusivity of stakeholders that generally belong to the non-digital segment.
The site offers an exciting range of customer centric features, including the Colombo Office Run, Personal Shopper, Standing Orders and Snap and Upload. In addition to the online shopping cart, grocerypal.lk is equipped with a myriad of features that set it apart from the conventional e-ecommerce sites.

GroceryPal delivers orders within 2 hours or less within the delivery grid, which currently stretch across Colombo 1 to 15 and surrounding suburbs up to Wattala, Kelaniya, Malabe, Kottawa and Mt Lavinia. All deliveries are charged a flat Rs.250 delivery fee, which is waived off for orders worth over Rs.5,000. Orders placed under the Colombo Office Run feature waives off the Rs. 250 delivery charge for all orders worth over Rs.3500 to any office block in Colombo. With multiple orders combined from one office block, "Office Run" offers the benefit of free delivery combined with the saving of shopping time for working professionals. This latest e-supermarket carries a full range of items available at supermarkets, and makes them accessible with a click of a button.
Speaking of the latest features available on the site to simplify the ordering process, Muditha Thebuwana, Team Head of GroceryPal.lk said, "Our goal is to take e-commerce to laymen, than simply offering our products to those e-savvy customers. Not everyone in our society is at ease when it comes to using an online site and paying via online payment gateways, using credit or debit cards. Neither are they good with placing orders online.

"However, these segments of the society can benefit immensely from some of the conveniences, which e-commerce sites like grocerypal.lk can offer. For instance, senior citizens, stay-at-home moms and otherwise mobility-restricted persons can enjoy doorstep delivery of essential items with express delivery facilities. To cater to such people, we have come up with many features, which are operationally cumbersome to us, but highly beneficial to customers. We are very much encouraged by the fact that NBQSA 2016 recognized the effort we have put into creating greater inclusivity of the non-digital community into experiencing digital solutions such as e-commerce."
GroceryPal is owned and managed by Lfinity (Pvt) Ltd, a subsidiary of
Laugfs Holdings.