---
Finance Minister Ravi Karunanayake will be the chief guest on the occasion of the celebration to mark the 50 years of Sri Lanka's partnership with the Asian Development Bank (ADB).
Sri Lanka is one of the founding member countries of the ADB, which was established in 1966.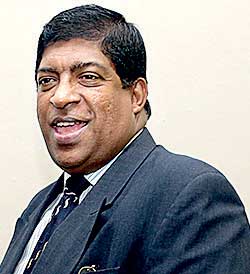 The ceremony to mark the 50-year long-standing partnership with the ADB will be held at the Independence Square, Colombo 7, at 3:30 p.m. today, with the participation of ADB Director General South Asia Regional Department (SARD) Hun Kim.
The guests will also declare open a photographic exhibition depicting the assistance given to Sri Lanka in the last 50 years by the ADB, at the Independence Hall. This exhibition will be open for the public tomorrow and the day after. Later, this exhibition will also be held in Galle on March 15, 16, 17, 2017.
The first assistance from the ADB was a loan to the country in 1968 to help modernize tea factories and it progressed to fund projects in a variety of sectors according to the needs of the country and in keeping with the development policies of the respective governments of the day. Since then, the ADB has cumulatively lent US $ 8.2 billion and provided more than US $ 363 million in grant assistance and more than US $ 138 million in technical assistance to the island nation.
The ADB's contributions to the development of the country were in the fields of power and energy, roads and transport, education and skills development, irrigation and water supply and sanitation. Further, the regional development, public sector and finance also stand among many sectors benefitted from the financial and technical assistance received from the ADB.
Headquartered in Manila, the ADB is dedicated to reducing poverty in Asia and the Pacific through inclusive economic growth, environmentally sustainable growth and regional integration. The ADB has 67 member countries, of which 48 are from the region.
The ADB's 50-year partnership with Sri Lanka has also contributed immensely toward the country's development through upgrading infrastructure, improving education and skills-based training and reconstruction in conflict and tsunami-affected areas. The ADB has also supported the growth of small and medium-sized enterprises, development of agriculture and natural resources and management of the public sector.
Some of the flagship projects in the country, such as the first-ever expressway in Sri Lanka (the Southern Expressway), expansion of the Colombo Port and the upgraded Udatenna–Mahiyangana road, were made possible due to the assistance of the ADB.
The Sri Lanka Resident Mission was established in 1997, enabling the ADB to work more closely with Sri Lanka while better appreciating and understanding the development needs, challenges and opportunities of the country.