---
Emirates has extended its online check-in to 48 hours before departure, from 24 hours, effective immediately. Customers around the world can check in online on both desktop and mobile devices from 48 hours to 90 minutes before flight departure.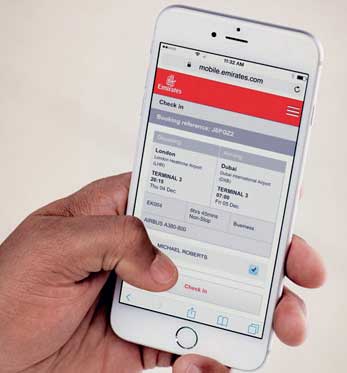 The increased lead time offers customers greater flexibility in choosing their seats, and reduces waiting times at the airport as they would already have their boarding passes before arriving at the airport. Passengers can then drop their luggage at online check-in counters before heading straight through to immigration and security. For flights to and from the United States, while online check-in is available 48 hours before departure, boarding passes will only be issued 24 hours in advance.

"We have always taken into account feedback to improve the customer journey and the extension of online check-in is a result of that. By allowing check-in from 48 hours before departure we are providing our customers added flexibility to choose their preferred seats for a more comfortable journey. This is just one of the many initiatives we are implementing to enhance our customers' experience online," explained Corporate Communications Marketing and Brand Digital Senior Vice President Alex Knigge.

The earlier check-in window will also enable more seamless communication with customers should there be unexpected flight delays or disruptions. For members of Emirates Skywards, the airline's frequent flyer programme, the extended check in time will also mean better availability of upgrades.
In addition to online check-in services, the airline also operates car park check-in facilities around the clock at its hub in Dubai. Customers can choose to check in and drop their luggage at the car park check-in facilities from 24 hours to six hours prior to departure easing the crowds during peak travel periods. Alternatively, customers travelling out of Dubai can choose to drop their luggage at one of the 46 dedicated bag drop counters in Economy Class or separate counters in First Class and Business Class at Dubai International Airport from six hours to 90 minutes prior to departure. An additional 10 bag drop counters are available in the dedicated USA flight check-in zone. As a result of these initiatives, customers can look forward to shorter queues at the various check in and bag drop points.

The extended check-in window is one of many features on emirates.com that aims to improve the customer experience. Another feature is the recently introduced 'Hold my fare' option, which gives customers the opportunity to hold their reservations and lock in competitive Emirates fares for a nominal fee. This feature has now been extended to 72 hours.

Emirates customers can easily plan and manage their flight booking, accommodation and transport rentals on emirates.com.