---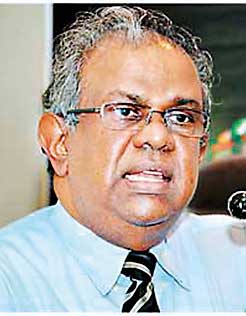 Good governance activist Chandra Jayaratne, in an open letter, requested the Labour and Trade Union Relations Minister W. D. J. Seneviratna to initiate an independent inquiry to assess the role of the Employees Provident Fund (EPF) in the bond auctioning process.
"I appeal to you to initiate an Immediate Independent Inquiry by persons with requisite capability, independence and integrity, to assess the operational eff i ciency and effectiveness of bond investments by the EPF, " Jayaratne said. Since the setting up of a market operation for the auctioning of government securities in February 2015, questions have been raised as to why the EPF was not participating in primary auctions, but purchasing bonds in the secondary market from select primary dealers at significantly lower rates
The Monetary Board last week issued a statement recommending that the EPF engage in primary auctions, pre-bid meetings held with all primary dealers and to examine and adopt international best practices to move away from the controversy surrounding the process. Jayaratne said that the Labour and Trade Union Relations Ministry, as the custodian trustee of the EPF, as well as the Commissioner of Labour and the Superintendent of the EPF should look into the discrepancies. He said that it should be determined whether the fund managers, administrators and the Central Bank management acted ethically without market manipulations, related party transactions, personal interests, bribery and corruption. Jayaratne further requested that it be determined whether the managers acted to promote the interests of the EPF stakeholders by actively participating in markets to achieve optimum investment yields and capital gains through both primary and secondary market transactions. Central Bank Governor Arjuna Mahendran, whose term is ending this month, had said that the EPF Manager had acted exemplarily to consistently deliver a 10-11 percent return over the past 3 decades. "I remain confident that this appeal made to you, in the interest of upholding transparency and good governance and delivering on the aforesaid Trustee responsibility and overall oversight responsibility owed to nearly 2.5 million members of the EPF, will receive your immediate careful consideration," Jayaratne said. The EPF is worth over Rs. 1.4 trillion. Under the governorship of Ajit Nivard Cabraal, the EPF invested heavily in commercial banks through the bourse, creating a conflict of interest between the banks and its regulator, the Central Bank. The new government has expressed an interest of divesting these investments. The EPF was recently seen divesting significant shares in blue-chip conglomerates, citing the need to keep a 30 percent of the fund liquid to meet payments promised by recent budgets.