---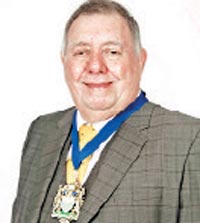 As part of an official visit to Chartered Institute of Management Accountants' (CIMA) global markets, CIMA President, David Stanford FCMA, CGMA, arrived in Sri Lanka yesterday and will be in the country till the 24th.

Highlights of his visit will include meeting with the Prime Minister, Ranil Wickremesinghe, Finance Minister, Mangala Samaraweera and the Governor of the Central Bank, Dr.Indrajit Coomaraswamy.
He will also be the Chief Guest at the 2017 CIMA Convocation to be held on 20th September and will host the CIMA's Associate and Fellow Members to dinner at Kingsbury on the 21st of September.
Having over 20 years of experience as a CIMA Assessor, Stanford will also be participating at the face to face Membership assessment sessions to be held on 22nd September.

Stanford's engagements in the country will focus on promoting management accountancy, and how it will add value to local businesses to drive long term equitable success, benefiting people and the environment.

Stanford was elected as the 84th president of CIMA. He has built up a 50-year career that included a number of senior finance roles in industries like electronics and retail. Stanford has given a lot back to CIMA, serving on its governing council and several local, regional and global committees. Throughout this period of more than 20 years, mentoring the membership, especially students, has been his passion.

As president, he is working to advance the new Association of International Certified Professional Accountants – the Association – formed at the start of 2017 by CIMA and the American Institute of CPAs (AICPA). CIMA members are now part of a global network of more than 650,000 professionals and students, in 179 countries.