---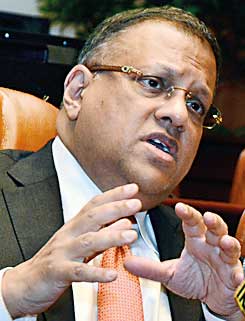 The Central Bank Governor, Arjuna Mahendran who is tipped to continue for another term in office, called for importation of labour to sustain the higher economic growth path the country is aspiring to achieve during the next decade as the country faces an acute labour shortage in many sectors. "I think at some point we are going to start importing labour. Already I think informally Indian workers (are) coming and working in some of the areas including Dockyard," Governor Mahendran told a forum recently.
Speaking at a forum organized by the Shippers' Academy Colombo, he said the plans are afoot to formalize this informal importation of labour – probably hinting at the controversial Indo- Sri Lanka Economic and Technology Cooperation Agreement or better known as ETCA, which is now temporarily put to rest due to growing protest from nationalistic forces, becoming a reality. ETCA proposed to allow free movement of workers in the IT and ship building industries but the locals feared such a move would threaten their jobs.
However Mahendran's belief appears to be such that Sri Lanka would have to liberalize its labour markets not just to India or to few selected sectors. His reading of the Lankan labour issue seems much more acute than it appears. While foreign workers – specially Indian and Chinese – are already employed in Lankan firms mostly in companies and projects which have origins into those countries, there are also instances where companies have to hire foreign labour in the absence of specialized skills back home. Sri Lanka's listed shipbuilding and ship repairing firm, Colombo Dockyard PLC is forced to hire Indian labour as such specialized labour is not available in the country. Mahendran blamed the government job creation as one of the reasons for the dearth in skilled labour in Sri Lanka and the migration in numbers seeking better pastures.
The fast aging population too contributes to the worrying development. The recent data from the Census and Statistics department for the fourth quarter of 2015 showed 4.3 percent or 389, 062 unemployment in Sri Lanka which is by and large considered as near full employment. It was only the other day the country's promising construction sector cried for more workers as the sector growth is being hindered by a acute labour shortage. Dr. Surath Wickramasinghe, the President of the Chamber of Construction Industry demanded at least the conditional import of foreign labour to combat the situation. A group of economists blames country's hypocritical nationalists for blocking Sri Lanka's progress for their petty reasons by not allowing the talent to move freely wherever it is required. Over decades, the successive governments forgo the soft infrastructure development over image boosting hard infrastructure development to bear their names, little realizing the significance of knowledge and skills of the country's human resources for economic development.