---
Kiribathgoda has received its own Burger King restaurant, following the opening of the 14th such outlet in Sri Lanka at a prime location in this bustling suburb, by master franchisee Softlogic Restaurants (Pvt) Ltd., a fully-owned subsidiary of Softlogic Holdings PLC.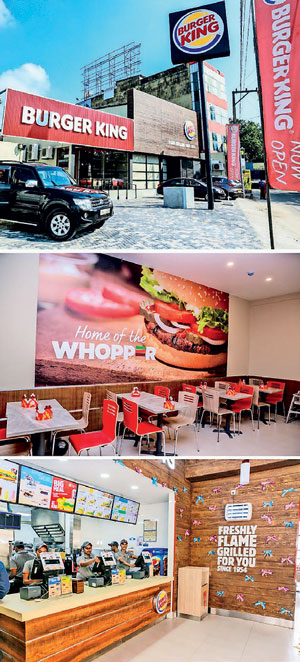 The new Burger King at No. 145, Dalugama, Kelaniya is seen as a highly anticipated and welcome new dining option for the residents of Kiribathgoda, offering vibrant surroundings, friendly crew members, ample parking space and mouthwatering meals. Located in a unique space, the restaurant has two entrances and can be accessed viathe New Kandy Road as well as the Old Kandy Road, adding to customers' convenience. The restaurant will stay open from 7AM to 11PM on weekdays and from 7AM to midnight on weekends for the convenience of residents of the area and people
passing through.
The fast food giant, which bills itself the 'Home of the Whopper,' grills rather than fries its patties for an exceptionally rich and clean flavour that burger lovers adore and proves to be healthier than other fast food options. Customers dining at Burger King can choose from a deliciously diverse menu featuring world-renowned products like the Whopper which comes with a 100 percent flame-grilled beef or chicken patty, mayonnaise, ketchup, fresh lettuce, tomatoes, onions and pickles all inside a five inch sesame seed bun.
Burger King also offers nutritious and value-for-money options for breakfast, considered the most important meal of the day, with Egg Burgers starting at just Rs 100. The restaurant also offers the tasty Scrambled Egg & Chicken Bacon Burger, the Chillie Cheese Chicken Burger with steaming hot melted cheese inside the burger at just Rs 200, Lavazza coffee and many other breakfast options.
For lunch, the restaurant's wide menu includes unbeatable deals such as BK Rice at Rs 230 and Royal Lunch at Rs 280, with a delectable dessert menu starting at just Rs 50 for Soft Ice Cream and extending to many perennial favourites such as chocolate mousse, chocolate biscuit pudding and the scrumptious Hershey's Sundae Pie.
"Kiribathgoda is a bustling community full of activity, with an affluent and cosmopolitan populace. It is therefore the perfect new addition in Burger King's expansion strategy for Sri Lanka," said a spokesperson for
the company.
He said the Burger King Kiribathgoda outlet offers an amazing experience for children of all ages through a 'Digital Play Ground' which is operated via a projector and motion sensor which allows users to interact with games such as mini football. Children will also receive a free toy with every purchase of a kid's meal.
Burger King's other outlets in Sri Lanka are located in Kollupitiya, Mount Lavinia,Rajagiriya, Arcade Independence Square, the Central Hospital Food Court, Kandy City Centre, Liberty Plaza, Negombo, Fort (Colombo 01), Wattala, Panadura, Nugegoda and at the Bandaranaike International Airport.
Burger King has enjoyed tremendous success in the short time since its launch in Sri Lanka by franchisee Softlogic Restaurants Pvt. Ltd, a fully-owned subsidiary of Softlogic Holdings PLC which is one of Sri Lanka's foremost, dynamic conglomerates, with leading market positions in the country's growing economic sectors; retail, healthcare, ICT, automobiles, leisure and financial services. Softlogic holds Authorized Distributorships for key global brands and today, employs over 9,000 people in its offices located in Sri Lanka and Australia.
Founded in 1954, the Burger King brand is the second largest fast food hamburger chain in the world. Every day, more than 11 million guests visit Burger King restaurants around the world. The Burger King system operates more than 14,000 locations in approximately 100 countries and U.S. territories.
Burger King's commitment to premium ingredients, signature recipes and family-friendly dining experiences is what has defined the brand for more than 50 successful years.