---
Well-known sales and marketing professional and entrepreneur Anil Koswatte has been appointed as Litro Gas Lanka Limited Chairman.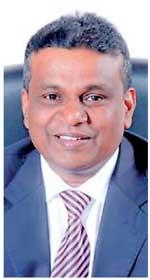 He has also been appointed as a board member of Sri Lanka Insurance Corporation (SLIC), the major shareholder of Litro Gas Lanka Limited. Koswatte, who is largely credited for turning around Laksala as its Chairman from 2011 to 2015, has held leadership positions in a number of government and private sector organizations, including Sri Lanka Export Development Board (EDB) and National Gem & Jewellery Authority (NGJA).
He also boasts of over 25 years of marketing and strategic experience at Nestle, the leading multinational food company in the world.

Koswatte also served in the capacity of an Advisor to the International Trade and Export Development Minister, Prof. G.L. Peiris for four years. He is also one of the founding members of the Chamber of Young Lankan Entrepreneurs (COYLE). He is also the founder of Lakarcade, Asia's leading novelty and souvenir chain, of which he is the CEO/Managing Director.

Litro Gas Lanka Limited is a Rs.40 billion turnover company and has a 74 percent market share in Sri Lanka's duopoly liquid petroleum (LP) gas market.