---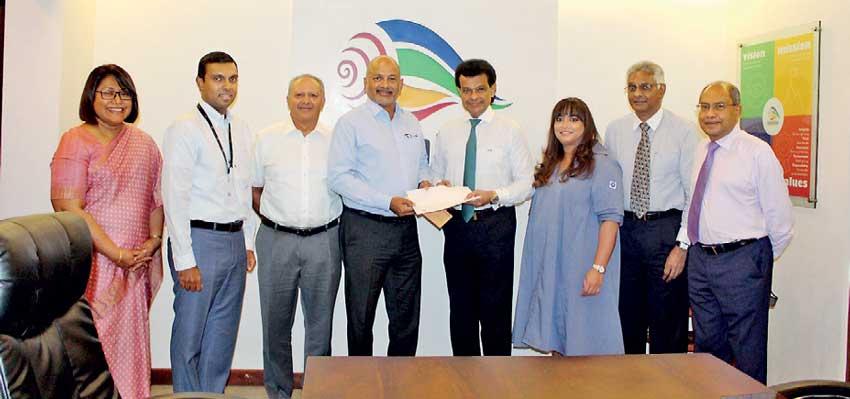 Aitken Spence PLC Deputy Chairman and Managing Director Dr. Parakrama Dissanayake accepts share transfer form from Sunshine Energy Ltd Chairman Harsha Abeywickrama in the presence of Aitken Spence PLC Executive Director Stasshani Jayawardena, Aitken Spence PLC Executive Director Dr. Rohan Fernando, Aitken Spence PLC Chief Financial Officer Nilanthi Sivapragasam, Aitken Spence PLC Managing Director Power Segment Leel Wickremarachchi, Sunshine Energy Ltd Managing Director Shyam Sathasivam and Waltrim Energy Ltd Director Harin Udeshi
Aitken Spence PLC recently acquired Waltrim Energy Limited, a subsidiary of Sunshine Holdings PLC, for Rs. 900 million.

The company contributes 6.6 MW to the national grid via three mini hydropower plants located in the Nuwara Eliya district, namely Waltrim Hydropower (Private) Limited, Upper Waltrim Hydropower (Private) Limited and Elgin Hydropower (Private) Limited.

Waltrim Hydropower draws energy source from Kothmala Oya and Upper Waltrim Hydropower and Elgin hydropower from Dambagasthwala Oya.

Aitken Spence expands its portfolio in hydropower in the pursuit of meeting the rising energy demands, sustainable development, access to clean energy and lowering our national carbon footprint. This is the second hydropower plant, which is owned and operated by Aitken Spence. Branford Hydropower (Pvt.) Ltd is the other hydropower plant with a 2.5 MW capacity, located in Matale. The company also owns and operates a wind power plant with 3 MW capacity, located in Ambewela.
"This is yet another investment made by Aitken Spence that shows our commitment to expand the power generation portfolio with renewable energy projects. Hydropower plays a key role in the renewable energy segment in Sri Lanka and this initiative strengthens the country's efforts to move towards cleaner energy sources and effective and efficient management of sustainable and affordable generation of energy supplied to the national grid," commented Aitken Spence PLC Deputy Chairman and Managing Director Dr. Parakrama Dissanayake.

"Aitken Spence maintains the highest environmental, safety and quality standards in the management of our power plants. These stringent management frameworks will be extended to the newly acquired power plants to meet compliance requirements as well as global benchmarks for cleaner production of energy," added Aitken Spence Power Segment Managing Director Leel Wickremarachchi.

The power segment of Aitken Spence is a leading player in the sector with a reputation for investing in pioneering technologies and has diversified into renewable energy by establishing hydropower and wind power plants to support Sri Lanka's demand for energy. With their commitment to increase the country's energy consumption from renewable energy sources, the company recently introduced Sri Lanka's first waste-to-energy power plant that was officially launched in February 2021.

Moreover, these initiatives are in line with the collective efforts of the government and private sector to produce clean energy sustainably.