---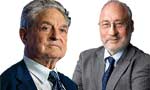 The Sri Lanka Economic Forum in which the government's agenda for economic prosperity 2023 is to be discussed, will get off the ground on January 7 in Colombo with the participation of George Soros and Prof Joseph Stiglitz , the organizing committee said yesterday.
The two-day forum which would be one of the major events in Colombo after the turn of the new year will be held under the theme 'Steering Sri Lanka towards Sustainable and inclusive development- Prime Minister Ranil Wickremeisnghe's agenda for development.'
The forum will be led by the Prime Minister himself while several global corporate and economic experts including business tycoon George Soros and US economist and Nobel Laureate Prof. Joseph Stiglitz will participate as guests of honour.
The subjects that will come under discussion are Macroeconomic and Fiscal Stability, Structural Transformation and Competitiveness, Urbanization and Development and Regional Development and Social Inclusion. Pannel discussions will also focus on the million jobs program of the government, options which the governments have for overcoming macro economic vulnerabilities, opportunities and challenges for inclusive growth and organization of urbanization process.
(Yohan Perera)