---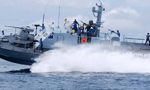 Sri Lanka Navy assisted the Sri Lanka Coast Guard to arrest seventeen Indian fishermen along with 2 fishing trawlers poaching in Sri Lankan waters in the seas off Point Pedro yesterday.
The arrested fishermen along with the fishing trawlers were handed over to the Jaffna fisheries officials for legal action.
The Navy also arrested six Indian fishermen along with a fishing trawler while poaching in the seas off Kudiramalai Point on Monday.