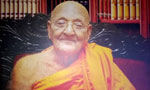 Asgiriya Mahanayake the Most Ven. Galagama Aththadassi Thera today expressed displeasure over the manner in which the Diyawadana Nilame of Sri Dalada Maligawa, Pradeep Nilanga Dela Bandara was questioned by the Financial Crimes Investigation Division (FCID).
The prelate expressed these views when President Maithripala Sirisena called on him today.
The Thera further said the questioning of the Diyawadana Nilame could have been done in a more appropriate manner without disrespecting Buddhism as a religion.
"Both Malwathu and Asgiriya Chapters were shocked upon hearing of the summoning of the Diyawadana Nilame to the FCID. He should have been questioned privately and unnoticeably if he had done something wrong," the Thera said.
The Diyawadana Nilame was questioned by the FCID on Tuesday over an alleged financial fraud at the Dalada Maligawa.
The Mahanayake Thera also said he looked forward to a change in the electoral system and, therefore, was studying the proposals in this respect.
Expressing his views when President Maithripala Sirisena called on him today, the Mahanayake Thera said he was studying the 20th Amendment to the Constitution that led to the introduction of a new electoral system and was happy with the new rather than the prevailing system. The prelate said that the prevailing system caused disputes even between family members.
(Nadeeka Daya Bandara and J.A.L. Jayasinghe)