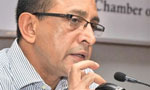 The United National Party (UNP) the main constituent of the Yahapalanaya Government today strongly urged President Maithripala Sirisena to dissolve Parliament immediately and go for a general election.
UNP General Secretary Kabir Hashim told a media briefing that holding a general election is a must in line with the mandate given by the people at the January 8 presidential election.
"We cannot hold office any longer as our time is up," Mr. Hashim said recalling that a mandate was given by the people to the present regime only to rule the country for 100 days. He said the present government had ruled for an extra 50 days despite the people's mandate.
"We strongly urge the president to dissolve Parliament," he said and highlighted the fact that this Parliament does not have a real mandate because it was the parliament of the former president.
Responding to a question asked by the journalists as to what the UNP intends doing to get the House dissolved, Mr. Hashim said the first step would be to inform the people of the current political situation in the country.
House Leader Lakshman Kiriella said the 20th Amendment was delaying the dissolution of Parliament said it was impossible to enact this piece of legislation because the parties had failed to reach a consensus.
"UNP too wants a change in the electoral system but it is not possible to implement it now," he said.
Mr. Kiriella is a member of the cabinet sub committee appointed to work out the electoral reforms.
(Yohan Perera)